Blooming flowers and fresh rain can only mean one thing: spring has definitely sprung! That means summer will be here before you know it. If getting your backyard in order is on your to-do list but you're having trouble getting started – don't fret! You don't need a total landscaping overhaul for your yard to feel refreshed and inviting. Sometimes it's just a matter of hanging up some string lights or creating a simple fire pit. We've rounded up 62 outdoor DIY projects to get you excited to be outside again as the weather warms up. From plants to playhouses, keep scrolling for more inspiration!
What ways do you want to transform your backyard? Let us know in the comments!
---
OUTDOOR SEATING
1. Pallet Couch: Doesn't this space look inviting? The good news is that it's made from free pallets and a few cushions!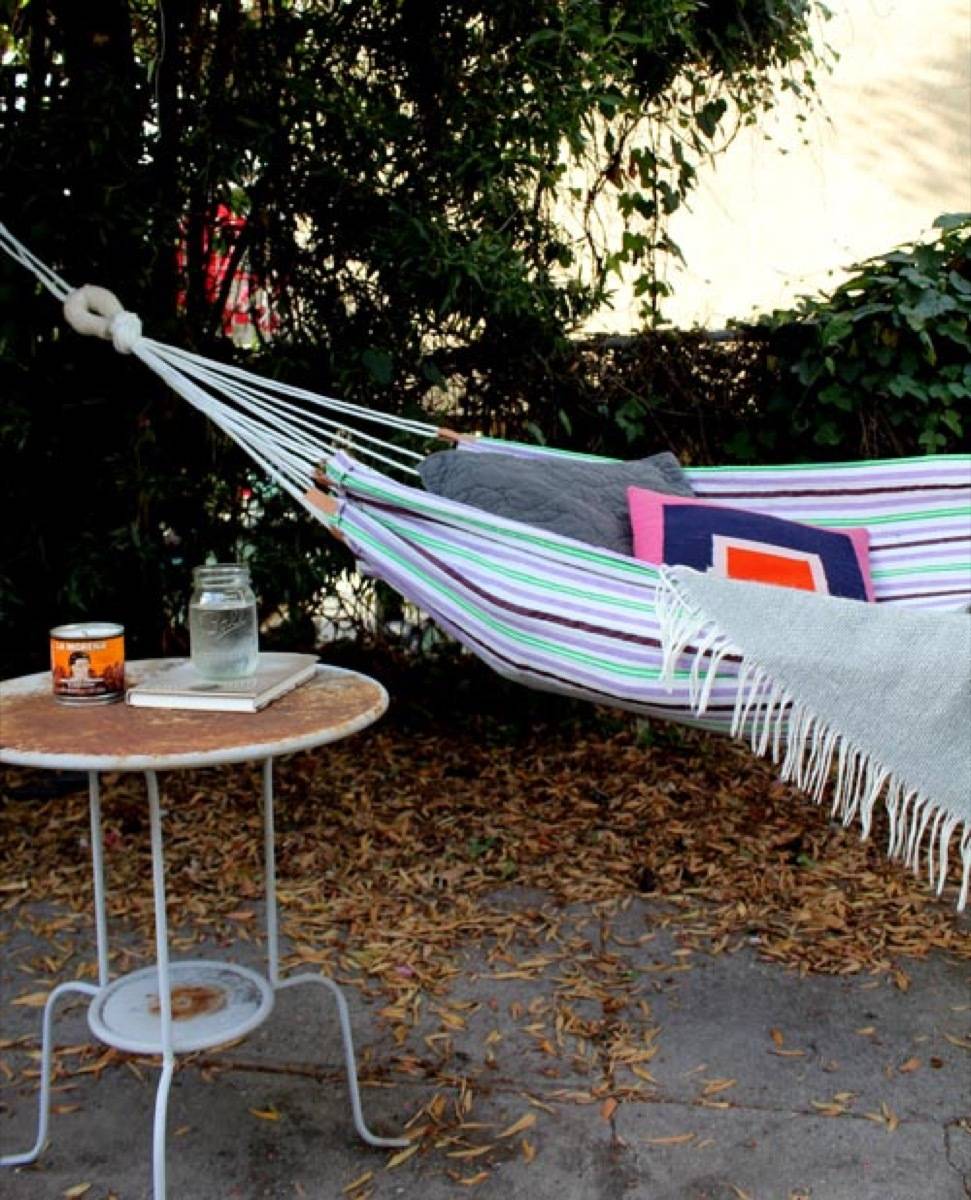 2. Summer Hammock: Nothing says "ahhhhhhh" like a gently-swinging hammock. Get ready to relax in the fruits of your labor with this DIY.
3. Colorful Chair Makeover: There are no rules to how bright colors can be outside. See how these once bland lawn chairs got their day in the sun.
4. DIY Porch Swing: As Liz Lemon says, "I want to go to there!" Swinging in the spring breeze is a total DIY reality with this project from A Beautiful Mess.
5. DIY Fringed Hammock: This hammock brings boho to the backyard with the addition of fringe.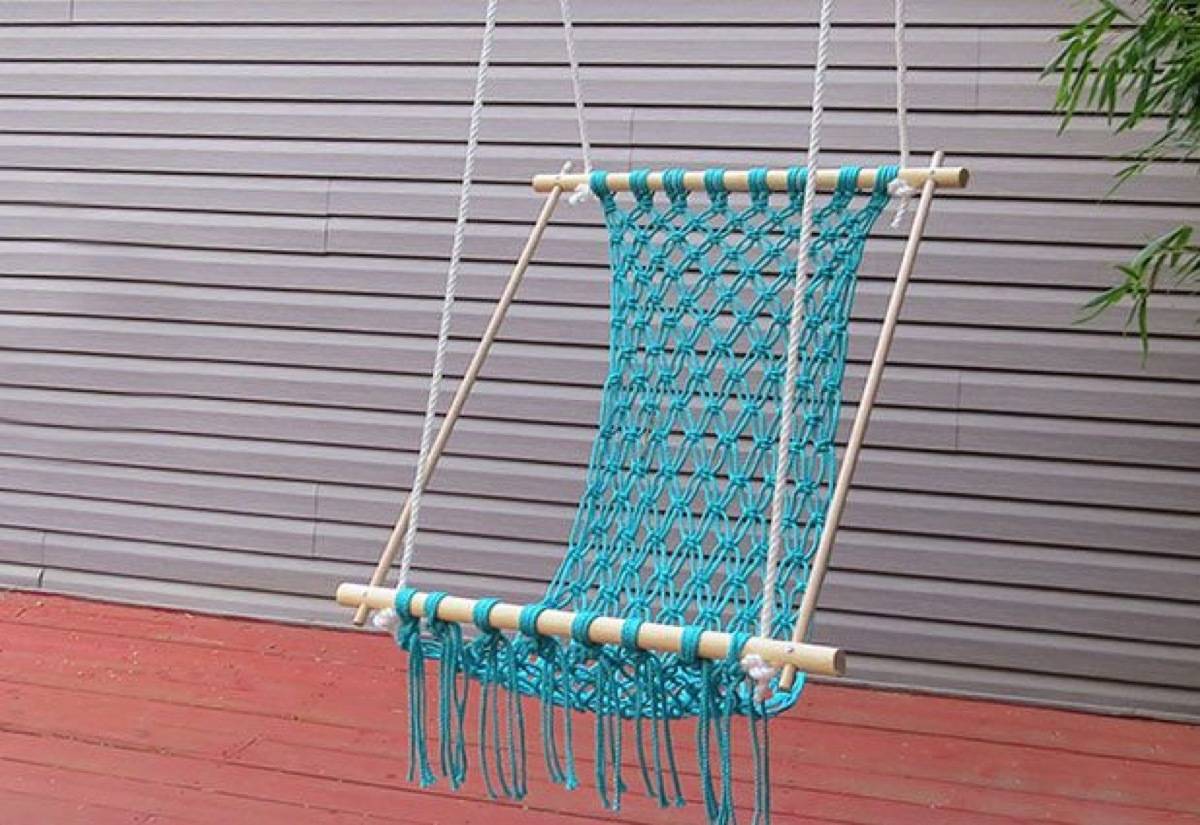 6. Macramé Hammock Chair: I can"knot" get over how gorgeous this hammock chair is!
7. DIY Outdoor Cushions: Update your existing patio furniture by stitching up some of these quick and easy DIY outdoor cushions.
8. Easy Outdoor Bench: Emphasis on "easy!" Instant seating comes to life with wood beams, concrete blocks, and a bit of paint.
9. Modern Outdoor Sofa: This number is so sleek I might want to bring it inside my house! The good news is it's built to withstand the elements, which means you can make your back deck super classy.
---
OUTDOOR ENTERTAINING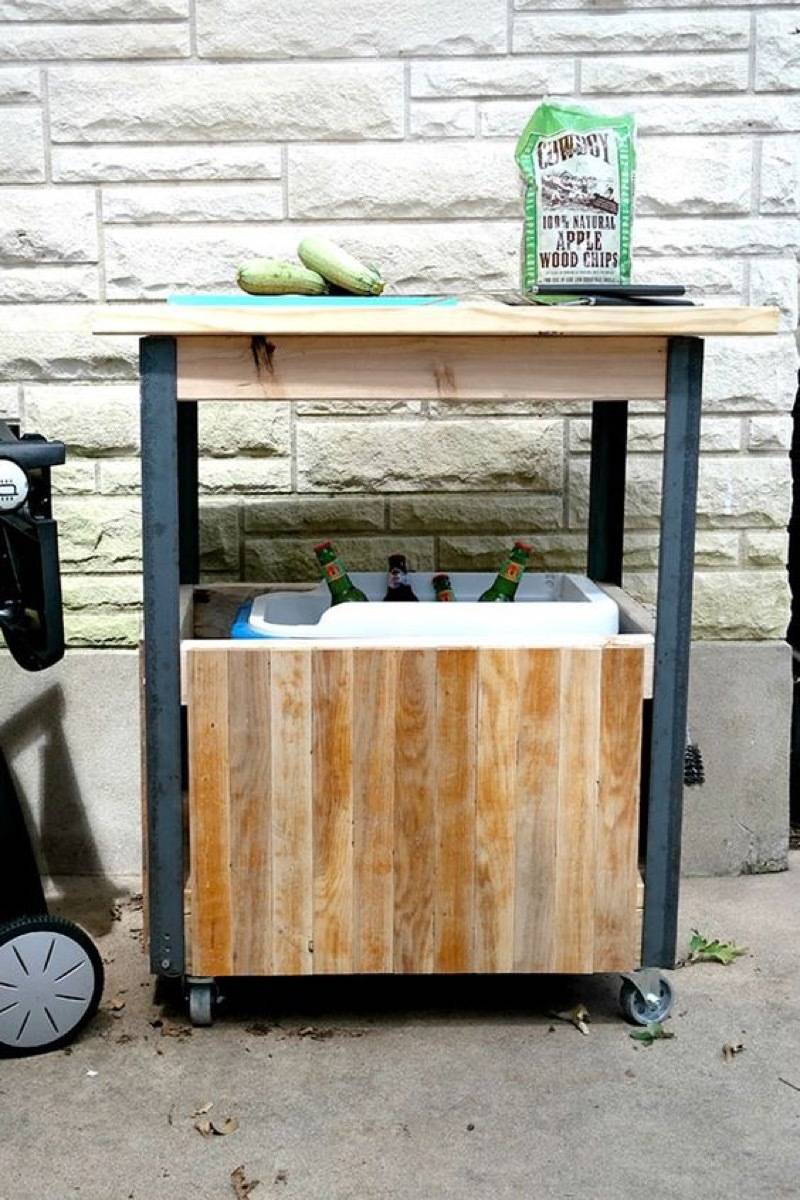 10. Simple Grilling Cart: Grillin' on the go! With a built-in drink cooler, what more could you ask for out of an outdoor DIY project?
11. Outdoor Bar: If you're not really the grill master type, but more of a whiskey woman, why not make a drink bar for your backyard?
12. Wall-Mounted Serving Station: Want to entertain but don't have space for a full outdoor kitchen? Go vertical by building this simple serving station with drop-down tabletop!
13. Built-in Beer Cooler Table: Woah Nelly, what is this ingenious contraption? Never get up from your chair again with this DIY.
14. S'mores Station Centerpiece: Acting as both a lovely centerpiece and a warming station for marshmallow and chocolate, party guests are sure to be impressed by this s'mores machine (made from glass dishes!).
15. Cinder Block Bar: Combining two awesome things (plants and booze), this bar provides an easy builder's solution.
16. DIY Grill Countertop: Basically like having an outdoor kitchen, this brick counter space built around a grill surely makes outdoor entertaining a breeze.
17. Drink Cooler Stand: If you're constantly entertaining outside, or if you just enjoy having a cold beverage available whenever, this drink stand provides a classy solution to the standard cooler.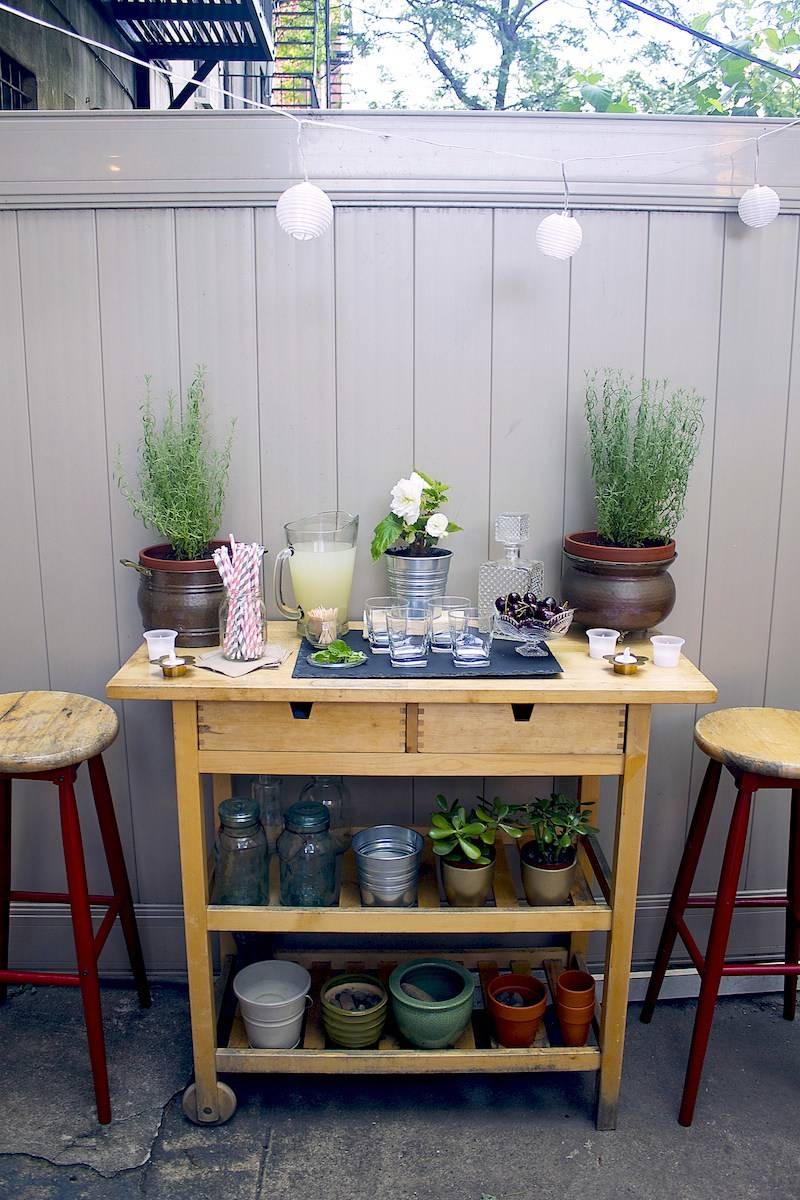 18. IKEA Outdoor Bar Cart: This entertaining station falls under the category of "why didn't I think of that?"
19. Built-To-Last Concrete Fire Pit: With a little elbow grease, you can build your own fire pit that you can enjoy for many summers to come.
20. Minimal Fire Pit: If clean lines are more your style, explore this fire pit put together by The Brick House.
21. Upcycled Fire Pit: I don't want to pick favorites, but this outdoor DIY project is high on the list. See what unusual upcycled material this flaming beauty was made from!
---
OUTDOOR LIGHTING
22. Bug-Repelling Citronella Candles: These outdoor lights do double-duty by providing light and shooing away unwanted pests.
23. Fire Column: Nothing says "class" like fire in glass. Shed a little light in your outdoor dining space with this simple DIY project.
24. Pendant Light: This DIY might make you want to eat outside for every meal! Create a classy dining nook by hanging some proper light fixtures.
25. Ping Pong Ball Lights: Maybe the easiest outdoor DIY project on this list, these ping pong ball lights instantly add charm to any space.
26. String Light Hanging Poles: If you want to hang string lights outside but don't have anywhere to put them, City Farmhouse has an easy solution that also involves plants!
27. Portable Fire Pit: This flame is on the move! Which is perfect if you are an renter or apartment-dweller.
28. Recycled Bottle Tiki Torch: Old wine bottles get new life as mounted tiki torches with this outdoor-friendly DIY!
29. Tin Can Lights: This project is a classic, and couldn't be left off the list! If you need a quick, easy, and cheap solution for your outdoor lighting situation, grab some tin cans, tea lights, a hammer and a large nail, and get to punching!
30. Mason Jar Lamps: Another classic, these jar lights are a simple and sweet way to brighten your backyard.
31. Pool Noodle Luminaries: Even if you don't have a pool, you can set these floatable candles off in a large container of water to add ambiance to any space.
32. Flower Pot Fire Pit: Who says fire pits can't be cute? Beautiful in blue, this outdoor DIY project only requires a flower pot, stones, and a little flame.
---
OUTDOOR PLANTING
33. DIY Trellis with Planter Box: Give crawling plants somewhere to go by building them a trellis. This project is also great if you're looking to fill visual space in your patio or deck area!
34. Hose Housing Station with Built-In Planter: Gardening hoses are hard to keep neat and pretty. This project solves that solution by keeping the hose hidden! Plus there are flowers involved, which is always a bonus.
35. Homemade Flower Beds: Bump up your home's curbside appeal by installing these flower beds you can make on your own.
36. Window Boxes: Aren't these just the sweetest? Deuce Cities Henhouse (local gal to us!) has tips on creating the perfect window boxes.
37. Vertical Planter: Take your plants a step up. Perfect if you're low on space but big on greenery!
38. Plant Chandelier: Ooh la la! Who needs lights when you can have leaves?
39. Succulent Letters: Say it with succulents! Create "wall art" to hang in your outdoor space.
40. Tapered Cedar Planter: Giant planters are not cheap, but with a little woodworking you can craft your own from cedar.
41. Geometric Cinder Block Planters: Cinder blocks are at it again! With a simple paint job, you can create a modern-looking planter to house all kinds of greenery.
42. Wooden Plant Stand: If you're looking for ways to add visual height to your plant-scape, Shanty 2 Chic has the plans to build a wooden plant stand.
43. Gardening Table: Got a green thumb? You're going to need a place to work! Learn how to make your own gardening table, courtesy of Design Sponge.
---
OUTDOOR FLOORING
44. Colorful Patio Tiles: I can't get over what a simple and transformative idea this is! If you can't commit to painting your patio, try chalk for a temporarily colorful time!
45. Painted Patio: If you're looking for a way to bring bold to the backyard, this paint job takes the cake.
46. Stenciled Concrete: This stencil job mimics the look of a rug with the low-maintenance factor of concrete! Try this look on for size if you're trying to create a more intimate outdoor living space.
47. DIY Rug from Drop Cloth: Personalize the patio by making a rug from a drop cloth. It'll withstand the elements, too!
48. Pallet Walkway: A couple of pallet boards bridge the gap in this DIY. Totally doable, and totally cheap!
49. Painted Outdoor Rug: Most outdoor rugs are "blah," but painting them is easy enough. See how with our tutorial for this modern and simple design!
50. Pea Gravel Patio: Want to build your own patio? Pea gravel makes it easy to create a patio space without all the pavers.
---
OUTDOOR PLAYING
51. Tree Swing: How sweet is this swing? Even if you're grown, there's nothing quite like swaying under a tree.
52. Circular Rope Swing: If you're working on your balance, try this swing on for size!
53. Sandbox with Lid: It's a gross reality, but if you have cats, you have to have a sandbox with a lid. Ana White has the plans for how to build one of your own.
54. Sandbox with Seating and Awning: Keep the kiddos safe from the sun by adding an awning to your sandbox. Plus these plans come with adorable seating!
55. DIY Bungalow Play House: With chalk board panels, this playhouse can be imagined into any space.
56. Play Tent: Can I move in? This cloth tent is also collapsible, so it's easy to move inside and out!
57. Hula Hoop Hideout: Give each kid their own special space with some fabric and a few hula hoops.
58. Tire Teeter Totter: Alliteration aside, this teeter totter is adorable. Plus it's made from recycled materials, so it's good for the kids and the earth.
59. DIY Tether Ball: This DIY feels like a throwback! Do you guys remember playing tether ball long into the afternoon? Turns out it's pretty easy to make one of your own for you or your offspring to enjoy!
60. Mini Bowling Lane: How adorable is this?? Bowling never looked so cute, plus it's small so it doesn't take up a lot of space!
61. Giant Four-in-a-Row: Everything better when it's bigger. Fair warning: you may end up being house-party-central if you build one of these.
62. Giant Jenga: Last but not least, this thrilling game is the perfect addition to a summertime backyard party.
---
Bonus! Author Christina Pfeiffer is sharing
What to plant for more drought resilient containers
By their nature, containers require more frequent watering than plantings in the ground. Smaller containers in full sun can need watering twice a day during hot spells. Go large when choosing new containers to save on time and water demands.
Choose a group of plants that are compatible in looks and culture. Match up their needs for light and water first, then play with combining colors and texture.
Sedums
These perennials are my first 'go-to' s for drought tolerant containers. They come in a variety of sizes, shapes and colors with blooms that benefit pollinator insects and ask for little in terms of water and fertilizer. Most will overwinter and also combine well with other drought tolerant plants.
Herbs for garden and kitchen
Culinary and ornamental herbs are another group happy in well drained soil and sun. Those with variegated foliage are stunning accents planted solo in a container. Among my top favorites are:
Variegated lemon thyme
Sages that are edible and ornamental: 'Berggarten', 'Aurea', 'Purpurescens' and 'Tricolor'
Oregano 'Kent Beauty' trails beautifully out of hanging baskets and into the marinara sauce.

Perennial favorites
These garden perennials make a successful leap between garden beds and containers and back again:
Coral bells, Heuchera 'Green Spice', 'Peppermint Spice' and 'Moonlight'
Geranium x 'Johnson's Blue' and other hardy geranium
Oxalis tetraphylla 'Iron Cross'
Dusty Miller –
Sunrose, Helianthemum 'Wisley Pink' and 'St. Mary's'
Hardy fuchsia
Cape fucshia
Add these grasses and grass-likes for contrasting texture
New Zealand Flax, Phormium and variegated iris both offer tall, strappy, striped leaves.
Low growing glack mondo grass has dramatic dark foliage and and small white or purple flowers.
Variegated lily turf, Liriope muscari 'Variegata', 'Silver Dragon' and 'Sunproof' all have white edged leaves and purple blooms.
Annuals that can take the heat (and a bit of drought)
Many of the popular annuals used for seasonal color do best with regular water and fertile soil. Be sure to keep these birds-of-a-feather together. Here are some great annuals that don't like as much water and fertilizer and that combine well with other types of plants listed in this article:
African daisy, Osteospermum Symphony series
Sweet allysum, Lobularia maritima
Coreopsis tinctoria
Dwarf snapdragons, Chinese Lantern series
---
More Outdoor Ideas from Curbly