Curbly was founded in 2006 with a simple yet wonderful idea: that everyone deserves to have a beautiful and functional home that reflects their personal style. As a home design and DIY platform, the Curbly team is dedicated to providing a place where people can find inspiration, share ideas, and connect with others who share their passion for design.
From the beginning, Curbly has been about empowering people to create the homes they want, regardless of their budget or experience level. With a team of expert contributors and a community of dedicated readers, Curbly has become a go-to destination for all things home design, offering a wealth of resources, tutorials, and advice to help people transform their living spaces.
Curbly is built on the belief that good design has the power to change lives, and that everyone deserves to live in a space that makes them happy. Whether you're a seasoned designer or just starting out, we invite you to join our community and discover the endless possibilities of your home.
The Curbly Team
With a wide range of backgrounds and expertise, our team members bring a unique perspective to the world of home design and DIY. Get to know some of the faces behind Curbly:
Katie Koteen
Katie is a regular writer for Curbly and currently resides in San Deee-ahhh-goohhh. She considers Pinterest a hobby, publish recipes at Well Vegan, and has two cats that seldom get along. One of her favorite pastimes is fixing up other people's rental properties, much to her husband's dismay.
TaKenya Hampton
TaKenya is the Homebody Homegirl behind Kenya Rae, a Food & DIY blog sharing all things home. But that's not all! She is also the founder of TaKenya Hampton Coaching, where she offer life coaching that helps women become self-aware and live life on their own terms. And as the owner of Studio117 Creative, she uses her skills in systems and website design to help small businesses stand out online.
Ashley Amundsen
Ashley is a writer for Curbly. She lives in sunny Southern Utah with her husband and their two children. She loves cooking, searching for new adventures to go on, and binge-watching The Office and Parks and Rec.
Charmaine Griffin
Charmaine, a full-time copywriter and blogger from Los Angeles, California, started her writing career in 2015 while teaching in South Korea. Her work has been featured in Huffington Post, Flaunt Magazine, LA Travel Magazine and more. She's also a proud pet parent to two adorable cats, and on weekends she's either at a new coffee shop or planning her next trip abroad.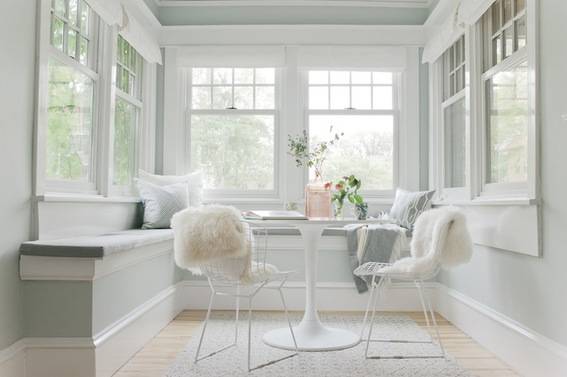 Learn more about the Curbly House
Follow along as we renovate our home, one project and blog post at a time! From entryways to bedrooms, kitchens, and garden sheds we did it all!
A Complete Tour of The Curbly House
We're officially in our "finished" house and we thought we'd celebrate with a big old-fashioned house tour. So we're going to show you the super-clean, polished, sparkly version of The Curbly House.
---
Need help with something on Curbly? Want to know more about advertising on Curbly? We'd love to hear from you! Head over to our contact page.