For the past six months, I've been hammering and banging on a flimsy folding plastic table. That's right. I'm a full-time DIY and how-to blogger, a hobbyist woodworker, and everyday tinkerer, and my garage workbench (if you could call it that) was a thin piece of flexible plastic sitting on flimsy legs, previously only employed as extra seating when we host Thanksgiving dinner.
See, my wife and I just bought our first home, and while we were lucky to find a house in inner Southeast Portland with both a garage and a basement (no small feat), we've spent our free time fixing up the more public – and practical – spaces: the living room, kitchen, dining room, bedrooms, etc.
While those projects progressed, my tools sat in moving boxes and plastic bins, disorganized and impossible to find when I needed them. My work surface was the silly plastic table, which served mostly as a place to set stuff while I searched for tools and hardware.
---
But now it's summer, and we've got all sorts of exterior projects, gardening/landscaping, and serious room makeovers going on. Our work and tool solutions simply have to change. We need a proper garage workbench, one that will work for every sort of hands-on task: a potting bench, a DIY work table, a bike tinkering station, a home repair hub, a photography studio, and whatever other hobbies and around-the-house fixes we decide to take on.
So I came up with this plan for the ultimate garage workbench and table, as well as some serious tool organization (so long, plastic totes!).
Materials
(2x) 4x4s, 8 feet long
(4x) 2x4s, 8 feet long
(5x) 2x6s, 8 feet long
(16x) 1/2″ bolts, 5 1/2″ long
(16x) 1/2″ nuts
(32x) accompanying washers
(20x) 4″ long screws
Wood glue, sandpaper, oil finish
Tools
The Ultimate Garage Workbench Plans: Get 'Em Here
Designing the Garage Workbench
This is our "forever" house, and I plan to live in this thing as long as I'm around … or at least until we decide retire, sell everything, buy an RV, and tour the National Parks eating at awesome roadside restaurants (fingers crossed!). So, with that in mind, I wanted to build something that will last, and that we'll never outgrow.
The plan was for this to be the ultimate homeowner's bench – a huge work table that could handle whatever we would throw at it.
What makes it the ultimate workbench? Strength. Versatility. Beauty. And, of course, it's able to be built by anyone who's willing to get their hands a little bit dirty.
Rules for the Ultimate Garage Workbench:
Must be built from easy-to-find dimensional construction lumber (2x4s, 2x6s, etc.)
Must be built in a single weekend
Must be supremely rock solid but not rely on any complex joinery, like mortise and tenons
Must be able to be built with a simple power tool kit such circular saw and cordless drill, basic hand tools, and hardware you can find at your local True Value store
Must have a top large enough for a wide variety of home and garden tasks: potting and planting, home repair, DIY tasks, simple woodworking, bike repair, etc.
Must be built to last: you'll never have to build a workbench again
This project is made from simple construction lumber. I live in the Pacific Northwest, so that means Douglas fir, but yours might be Southern Yellow Pine or Whitewood, depending on what species grow in your region. The legs are 4×4 posts, the cross members are basic 2x4s, and the top is a set of glued-up 2x6s.
I wanted to avoid visible screws on the outside of my project. I spent a long time looking through the stacks for nice straight-grain wood, and I didn't want to mar the surfaces with a bunch of black drywall screws all over the place. So, I decided to borrow a technique from bed making that uses a nut and bolt system that would allow me to re-tighten the bench up over the years and keep things solid.
My bench is pretty big – a full seven feet long – so it fits in front of a full sheet of pegboard. It also provides a large work surface so I can be working on a couple projects at once, if necessary. Not to mention a nice, big, flat surface for drawing, paper cutting, organizing, and all sorts of other home tasks and creative projects that get dreamed up in garages. I also made sure the shelf was sized properly to fit a large machinist's tool chest I inherited from my grandfather. There's so much storage in this thing, I wanted it to be a key feature of the (and finally get it off the floor).
This can be sized down to fit your space.. The base will work for any workbench that's bigger than 4′ 6″; if you want to go smaller, just shorten the front and back rails.
How to Build Your Garage Workbench
Buy your lumber and hardware
Head to your local hardware store and select the lumber for this project. Take your time to sort through the options and look for the straightest, knot-free grain you can find. Make sure it's as dry as possible. If you're unsure about selecting lumber, don't be afraid to ask for help!
To build the base for the garage workbench, you'll need:
Two 4 x 4 x 8 posts
Four 2 x 4 x 8s
Five 2 x 6 x 8s
If you want to add a lower shelf, pick up two 1 x 2 x 8s and a 2×4′ quarter sheet of 3/4″ plywood or MDF.
Then, make your way to the hardware aisle and get:
Sixteen 5 1/2″ long bolts, 1/2″ in diameter
Sixteen accompanying nuts and thirty-two washers, 1/2″ internal diameter
Sixteen each of 1 1/4″, 2″, and 4″ long wood screws
Cut the wood to length
Use a circular saw or compound miter saw to cut your wood to the following dimensions:
4×4: Four @ 32 1/2″ long (legs)
2×4:
Four @ 46″ long (front and back rails)
Four @ 16″ long (side stretchers)
2×6: Five at 86″ long (These are oversized. We'll trim them flush once the top is assembled.)
Layout the joinery
The workbench is held together by a "bed bolt" system, where a nut is mortised, or sunk, into the cross members to accept a bolt that's been fed through the legs. Since the legs must accommodate bolts for both the front/back and sides, it's important to keep things laid out carefully.
Proper and consistent labeling of parts is the key to this easy project.
So, make yourself a little template or jig from a scrap piece of 2×4, 10 1/2″ long. Drill a hole 1″ from the top, and another at 2 1/2″, perfectly centered. Write "sides" near the top hole, and "front/back" near the bottom to keep things straight.
Place your template at the BOTTOM of one of the 4x4s, and flush up the bottoms. Mark this face "side" and then transfer the 1/2″ hole to the 4×4. One easy way to do this is with a 1/2″ brad point drill bit. Just place the drill bit in the hole, and tap it firmly with a hammer to transfer the center point of the hole. Fill it with a pencil cross so you can keep track of the locations later. Repeat with the other three 4x4s.
Then, set each of these on end with the marked sides facing each other in pairs. (They'll be on the insides). Note which face will accept the front and back rails, and use your pencil to mark these for later. (Write in the center of the wood so it won't get drilled out). Then use your template to mark the bottom hole to lay out where the front/back rails will go.
Now, repeat a similar process by using the template to lay out the top cross members. Register the jig on the TOP of the 4x4s, and mark out both front/back and side locations, making sure they're on the same sides as before.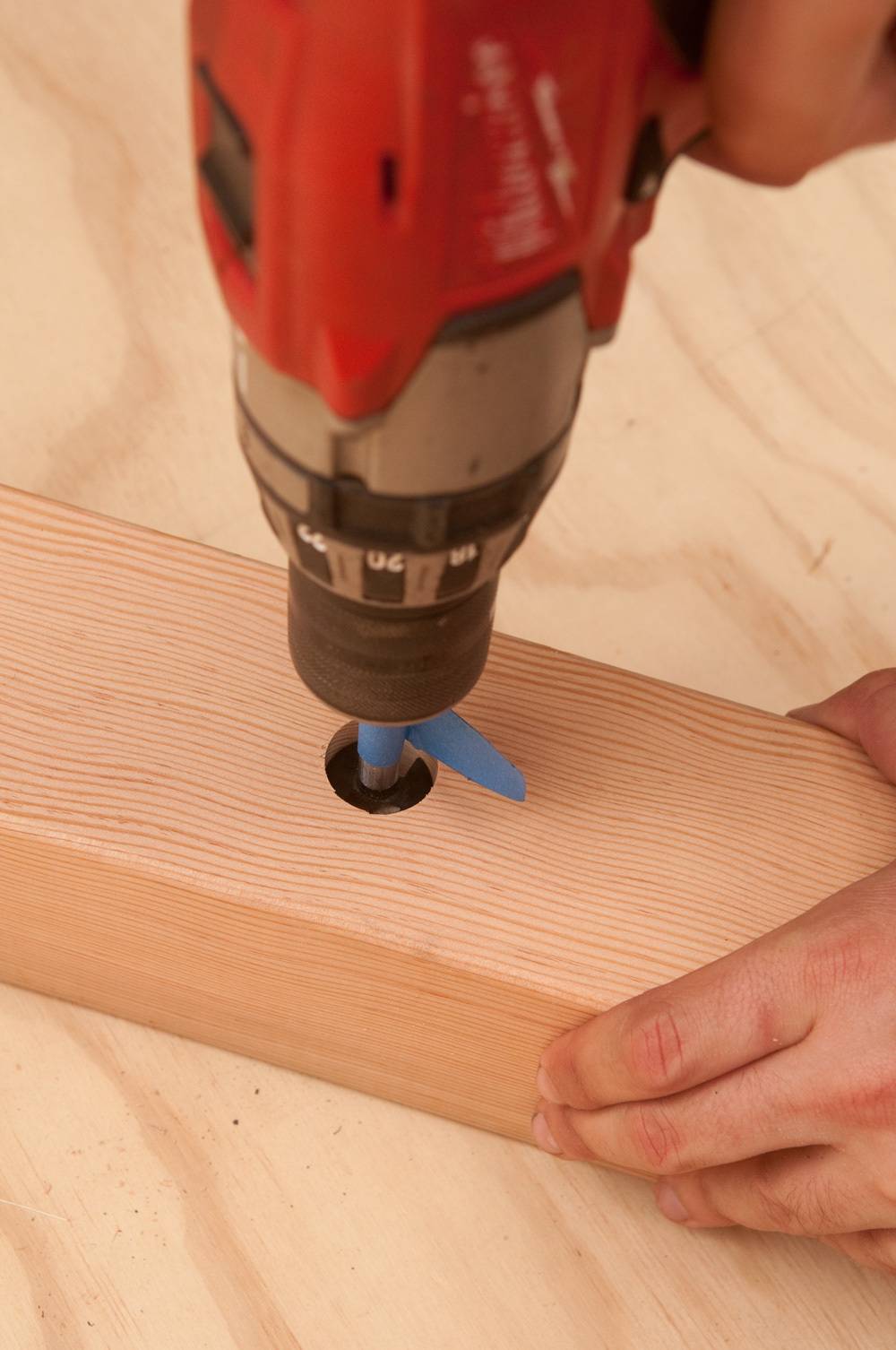 Drill out the legs
Now, chuck in your 1 1/4″ Forstner bit, and place its center point on your mark. Drill straight down (use a square or drill guide to help you) to a depth of 1″. A piece of masking tape wrapped around the drill bit can help you mark your depth. Repeat for all sixteen holes.
Now, switch to a 1/2″ drill bit, and using the mark left from the Forstner bit as a guide, drill all the way through the 4×4. Be sure to place some scrap on the other side so the wood doesn't blow out.
Congrats! Your legs are now done.
Drill the cross members
With the leg faces identified, begin to layout the 2×4 cross members. Choose the most attractive 2x4s for the parts you'll see, and write "top front," "back bottom," "top left outside," to keep your joinery consistent.
Then, place each cross-member between the appropriate legs and mock up the eventual fit. Making sure things are square and flush, use the drill bit trick to mark each cross member. Write an A on both the leg hole and the stretchers, then continue with B, C, etc., on both pieces to keep things organized.
I made another little jig by drilling 1/2″ holes into the end grain of a scrap 2×4 and then slicing it off with the miter saw. This allowed me to maintain the right spacing between the two holes on all the pieces. I simply placed it in between the leg and the cross member, lining up the edges. This was especially helpful on the bottom set of holes, where the 2x4s aren't flush with the top or bottom.
Then, drill all the way down into the cross members with your 1/2″ drill bit. Take extra care to drill these as straight as possible. A drill guide or doweling jig can be super helpful here.
Make sure the shorter side pieces have all the holes on the bottom, and the front back have them on the top. If you've made a mistake, you can go ahead and drill the proper hole now. No one will ever see it 🙂
Now, assemble everything for a dry fit to make sure things are all laid out right. Use the bolts as pegs to hold things together. If you find any errors, go ahead and fix them now.
Make the top
That's a lot of measuring and drilling, so let's turn our attention to the bench top. I glued my top together using long clamps to add pressure for a tight bond. If you don't have a set of clamps this long (at least 28″), you can simply add a couple of 1x4s across the bottom and screw them into each 2×6 to keep things aligned. Just make sure they don't interfere with the bench's base.
Dimensional lumber is rounded over on the edges, and I wanted to slice those off so my workbench would have a nice flat top without any little grooves. I plan to take a lot of photos on this thing for future DIY projects, and so I wanted a nice consistent surface. You can choose to do this with a circular saw, table saw, or jointer if you have access to them. If not, don't worry about it; your bench will work just fine.
I first glued up boards one and two, then added number three. Then, boards four and five were glued together, and lastly, the two blocks were attached to form the final top.
To get the best bond and save headaches, glue each 2×6 on one at a time. It will take a bit longer, but it will help you get the flattest top and reduce the amount of slipping and sliding around on wet glue. Just apply glue evenly to both edges, and press them together. Clamp firmly until you see a small bead of glue emerge from the joint. Let cure for about 30 minutes before working on the next piece.
Use a chisel or metal putty knife to remove the glue after a couple of minutes (once it has gelled up a bit). While you wait for the glue to set up on the top, you can finish up the base.
Create the nut mortises
The bolts go through the 4×4 legs into the 2x4s, and are tightened by a nut that's set inside the 2x4s. This is commonly known as a 'bed bolt."
To lay these out, you'll want to make a mark the cross member 2 1/2″ in from the end, in line with your already drilled bolt holt. (Use the bolt to guide you). Once each cross member is marked, use the 1 1/4″ Forstner bit to drill a hole 1 1/8″ deep. You want the hole to have enough room to accommodate the nut, but not blow out the other side. Test your depth on a scrap piece first.
Marking the spot for the bed bolt mortise can be tricky, especially if your cross member holes weren't perfectly straight (you don't want to miss the hole). For a fool-proof method, search Google for instructions on how to make a "
bed bolt mortise jig
".
Once the mortise holes are drilled, you should square up one edge to give the nut and washer a flush wall to snug up against. Just extend the sides of the mortise, and chop it out with a chisel and mallet to make a nice, smiley-shaped U.
Repeat for the rest of the mortises.
Begin to assemble the base
Okay, now it's time to enjoy the fruits of your labor. Add a washer to the bolt and insert it through a leg. Slide on the accompanying 2×4 until you can just see the bolt end in the mortise. Add a washer and spin on a nut. Then, hold the nut still with a pair of pliers or open-ended wrench, and use a 3/4″ socket wrench to tighten up the bolt head. Repeat for all the bottom cross members.
Add a shelf (optional)
Placing a shelf on the bottom stretchers is a great way to bring stability and structure to the base, as well as add some serious storage. If you want it in there, you'll likely need to add it now, before the top is in place, so there's enough room to make it fit.
I made mine by adding some fir supports to the inside of the shelf on all sides, 3/4″ down from the top, then attaching them with countersunk screws from the inside. (I cut mine from some scrap 2x4s, but you could use 1x2s) Size these so they sit in between your mortises, so you can still access the nuts later for tightening. If you're less of a perfectionist than I am, you could simply set the shelf on top of the 2×4 stretchers.
Then, I notched out the corners of a 2×4′ sheet of plywood, which I cut to width. The internal length should be right on 48″. I notched the corners with a simple $10 coping saw.
I then attached the shelf from below with screws.
Complete the base
With the shelf in place, attach the remaining 2x4s with the hardware, tightening everything up. It should feel nice and sturdy at this point. Good work!
Sand everything with 220 grit sandpaper. If you can still see pencil marks, use some denatured alcohol to remove them.
Finish it up
Finally, add the top, and place it on the base as you see fit. I left 13″ of overhang on one side, and 19″ on the other to make space to store some particular tools beneath. (Remember, the benchtop is still oversized by two inches) Center it front and back, and clamp it in place on the base.
Screwing from the bottom of the top cross members, attach the top with a whole bunch of countersunk 4″ screws. You could also use heavy duty lag bolts, but you'll need to counter bore them. I just used A LOT of screws, and this thing isn't going anywhere.
With the top in place, use a circular saw and a straight edge as a fence to cut 1″ off each side to square up the top and create a nice flush edge.
Sand the top with 220-grit sandpaper, and use a sanding block to break the edges a bit. Wipe the whole top with a wet rag to raise the grain, then allow to dry. Sand again to 220, and apply two coats of Danish Oil, which you can find in the stains and finishes section of True Value. You don't want to use a film finish like a clear coat here – it will crack with all the banging and hammering you'll be doing on this. Remember – this is a workbench!
Done and done! I had already placed my tools on the pegboard in groups, starting with the woodworking tools on the left side, the general household stuff in the middle, and the bike and mechanics tools on the right side. I placed the workbench right in the middle, and added my grandfather's tool chest to the bottom shelf.
This thing is sturdy as can be, and I love that the huge work surface can handle all sorts of projects. It's still a dark and aged 100-year-old garage, but with some shop lights, all my tools on the wall, and a nice clean place to work, it's already the most finished space in our house. Time to move on to the next one!
Share this on Pinterest!