Midcentury design is all about clean lines, bold colors, and geometric shapes and this is most prevalent in the design of midcentury fireplaces. The midcentury era, spanning from the 1940s to the 1960s, was characterized by a shift towards modern and contemporary styles, which included a focus on creating sleek and functional interiors.
In this post we'll share some of our favorite ways to restore, style, and modernize your midcentury fireplace. We have lots of ideas to get you started, let's dive in!
Simple and Elegant
One of the key features of midcentury design is simplicity. Midcentury fireplaces were often designed to be sleek and unobtrusive, with clean lines and minimal ornamentation. Simple materials such as concrete, stone, and brick were used to create a minimalist look that emphasized the fireplace's functionality.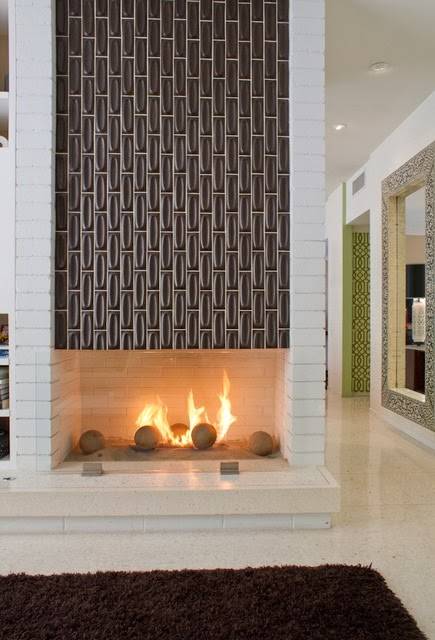 Geometric Shapes
Midcentury design is also characterized by the use of geometric shapes, such as circles, squares, and triangles. These shapes were often incorporated into midcentury fireplace designs, whether through the shape of the fireplace itself or through the use of patterned tiles or screens.
Bold Colors
Midcentury design embraced bold colors, with shades of orange, yellow, green, and blue being popular choices. These colors were often used to create a striking contrast against the neutral tones of the fireplace itself, as well as against the surrounding walls and furniture.
Suspended Fireplaces
Midcentury design was all about innovation, and this was reflected in the design of midcentury fireplaces. Suspended fireplaces, which were hung from the ceiling, were a popular choice in midcentury homes. These fireplaces were often made from metal, such as brass or steel, and featured a sleek and modern design that emphasized their suspended nature.
Double-Sided Fireplaces
Another popular midcentury fireplace design was the double-sided fireplace, which allowed for the fireplace to be enjoyed from multiple angles. These fireplaces were often used to divide a room into two separate living spaces, or to create a cozy nook within a larger room.
Freestanding Fireplaces
Freestanding fireplaces were also popular in midcentury design, and were often used to create a focal point within a room. These fireplaces were often made from metal or stone, and featured a simple yet striking design that emphasized their freestanding nature.
Minimalist Mantels
Finally, midcentury mantels were often designed to be minimalistic, with a focus on functionality over ornamentation. Simple wooden or metal shelves were used to hold firewood or decorative objects, while the fireplace itself took center stage.
Midcentury fireplace design is characterized by simplicity, geometric shapes, bold colors, and innovation. Whether you're looking to restore an existing fireplace to its former glory or bring fresh style to your space, the midcentury fireplace is a versatile and timeless focal point for any home.
More Fireplace Ideas from Curbly