Are you looking for inspiration to transform your fireplace into a stunning centerpiece of your living space? Look no further than our collection here of fireplace tile design ideas. From classic and timeless white tiles to bold and colorful mid-century modern tiles, there are endless options to choose from. Not only can fireplace tiles enhance the aesthetics of your living space, but they can also add functionality and durability to your fireplace. In this post, we'll explore some of the latest trends and timeless designs in fireplace tile design to inspire you to create a fireplace that reflects your unique style and personality. Whether you're looking for a cozy and rustic look or a modern and sleek design, fireplace tile design can help you achieve the perfect look for your home.
Mosaic Tiles
One of the most popular looks for fireplaces is mosaic tile. By combining intricate patterns, mosaic tiles create an eye-catching look that stands out from other tiling options. With endless combinations of colors and shapes available, you can really make your fireplace stand out. Keep in mind that mosaic tiles may require more maintenance due to their complex designs.
Subway Tiles
If you're looking for something more subtle than mosaic tiles but still want to make a statement in your room, subway tiles are an excellent choice. Even though they've been around since the early 1900s, subway tiles remain popular thanks to their timeless look and modern appeal. Subway tiles come in many different colors and sizes as well as glossy or matte finishes so you can customize them however you like. Plus, they're also very easy to clean—perfect for those busy households!
Patterned Tiles
For those that don't want too much fussiness around the fireplace area, patterned tiles are the way to go. Whether it's geometric shapes or floral prints, patterned tiles can easily transform any space into something special without overwhelming it.
Brick Tiles
Brick fireplaces are a classic and timeless addition to any home. They can add warmth and character to a room, creating a cozy atmosphere for family gatherings or quiet evenings at home. Brick can be used in a variety of ways to create different looks, from traditional to modern. Brick can also be painted or stained to match the decor of the room or to create a unique, one-of-a-kind design.
Painted Fireplace Tiles
Painted fireplace tiles can be a cost-effective and creative way to update an outdated or unappealing fireplace design. Painting fireplace tiles allows for a wide range of color options and finishes, making it easy to customize the look of the fireplace to match any decor style. With proper preparation and use of heat-resistant paint, painted fireplace tiles can hold up well to the high temperatures of a fire and provide a long-lasting finish. However, it is important to note that painting fireplace tiles may not be suitable for all types of tile materials, so it's always best to consult with a professional before attempting this type of project.
White Fireplace Tiles
White fireplace tiles are a classic and timeless choice that can instantly brighten up any living space. They provide a clean and fresh look that can complement a range of decor styles, from traditional to modern and contemporary. White tiles can be paired with various grout colors and finishes to create a unique and personalized look. Whether used in a traditional brick pattern or in a more intricate design, white fireplace tiles can create a stunning focal point in any room and can enhance the overall ambiance of the space.
Black Fireplace Tiles
Black fireplaces provide a striking contrast against the bright, warm flames of a fire, creating a dramatic focal point in any room. The tiles can be made of various materials, such as black marble, black tile, or black granite, and can be designed in a variety of styles, from minimalist to ornate. A black fireplace can add sophistication and elegance to a living space while also creating a cozy and inviting atmosphere.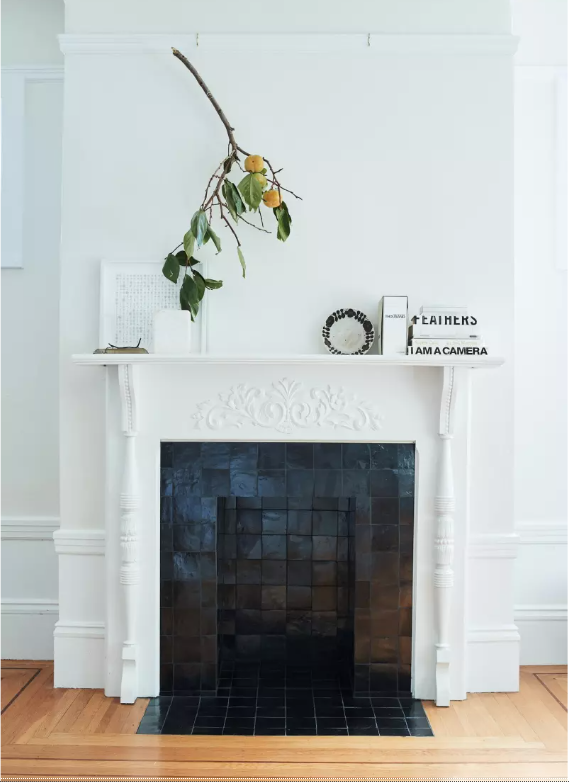 Herringbone Tile Patterns
Herringbone fireplace tile patterns are a popular choice for those looking to add a touch of elegance and sophistication to their fireplace design. When applied to a fireplace, this pattern can add depth and dimension to the surface, creating a stunning visual effect. Whether used as a simple accent or as the main feature of a fireplace design, herringbone tiles can add a touch of timeless elegance to any space.
Mid-century Tiles
The Mid-century modern design vibe is characterized by clean lines, bold colors, and geometric shapes, and these elements can be incorporated into fireplace tiles in various ways. Bold color choices such as avocado green, burnt orange, and mustard yellow were popular during this era and can be used to create a vibrant and eye-catching design. When combined with other mid-century modern elements such as sleek lines and minimalism, mid-century fireplace tiles can create a cohesive and stylish design that adds character and charm to any living space.
Firebox Tile Designs
The firebox is the area of the fireplace where the fire is contained, and tiles used in this area must be heat-resistant to withstand high temperatures. Tiles used in the firebox area can be installed in various ways, such as a brick pattern or herringbone pattern, to create a unique and stylish design. Some popular options for firebox tiles include natural stone tiles, which can create a rustic and earthy feel, and metallic tiles, which can add a modern and industrial touch to the fireplace design.
How to Choose Fireplace Tiles for Safety and Durability
When it comes to using tiles for a fireplace installation, safety is a crucial consideration. Not all tiles are suitable for use in a fireplace, as they may crack, discolor or even release toxic fumes when exposed to high temperatures. Here are some steps you can take to ensure that the tiles you're using are safe for a fireplace installation:
Check for heat ratings: Tiles come with a heat rating, which indicates the maximum temperature that the tile can withstand without damage. Look for tiles that are rated for high temperatures, typically at least 1200°F. Make sure the tiles you choose are suitable for use in a fireplace and have been tested to meet industry standards.
Choose non-combustible materials: The tiles used in a fireplace installation should be made of non-combustible materials, such as ceramic, porcelain, or natural stone. Avoid using tiles made of flammable materials like wood or vinyl, which can pose a serious fire hazard.
Look for tiles specifically designed for fireplaces: Some tile manufacturers produce tiles specifically for use in fireplaces, which are designed to withstand high temperatures and resist cracking or discoloration. Look for tiles that are marketed as "fireplace tiles" or "fireplace surrounds."
Verify compliance with local building codes: Building codes vary by location, and it's important to ensure that the tiles you choose comply with local regulations. Consult with a professional installer or local building authority to ensure that the tiles you choose meet the appropriate safety standards.
Have a professional install the tiles: It's always best to have a professional installer handle the installation of fireplace tiles. A professional installer will be able to ensure that the tiles are installed correctly and that all safety measures are followed.
In summary, when choosing tiles for a fireplace installation, it's important to look for tiles that are rated for high temperatures, made of non-combustible materials, designed for fireplaces, comply with local building codes, and installed by a professional. By taking these steps, you can ensure that your fireplace tiles are safe and will provide years of enjoyment.
More Fireplace Ideas from Curbly