Today, we're diving into all the latest modern fireplace ideas, gathered for you from the far edges of the internet and complied into this tidy post. Fireplaces have always been a focal point in homes, providing warmth, comfort, and ambiance. Today, modern fireplace design has become an art form, with endless possibilities for creating a unique and personalized space for you and your family and friends to enjoy.
From classic and traditional to modern and eclectic, the design options are absolutely endless. In this post, we will explore ten modern fireplace design styles, each design style offering its own unique aesthetic and can be customized to fit any home or living space. Whether you are looking to add a fireplace to your existing home or designing a new space, this post will provide inspiration and ideas for creating a modern fireplace that is both functional and stylish, regardless of your starting point.
Here are some of the most popular modern fireplace styles to inspire your next home improvement project:
Modern Farmhouse Fireplaces
Modern farmhouse style fireplaces are likely the most popular aesthetics on Pinterest these days, so we'll start there. These fireplaces typically feature a blend of rustic (farmhouse) and modern elements, with clean lines and natural materials such as wood, stone, or brick. Modern farmhouse fireplaces also frequently incorporate features such as shiplap or reclaimed wood mantels, and may be finished with a neutral color palette that complements the overall aesthetic of the home. It's an easy style to accomplish whether you have a new or vintage home.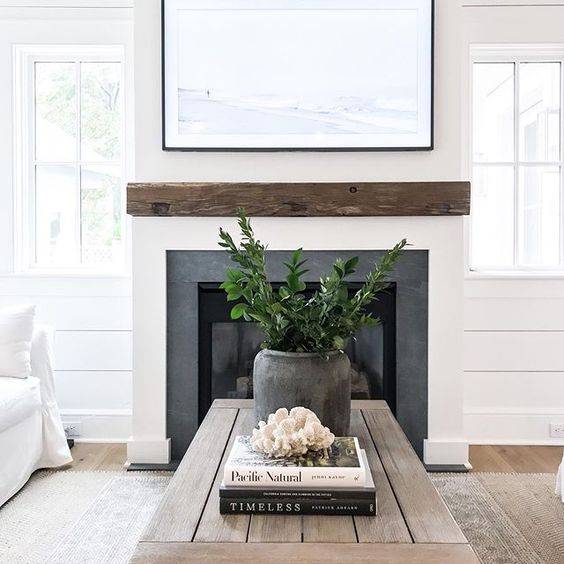 Scandinavian Farmhouse Fireplaces
The Scandinavian farmhouse style is a popular design trend that combines the clean lines and minimalism of contemporary design with the rustic warmth of traditional farmhouse style. Fireplaces in this style of home would often feature a sleek and simple design, with minimal ornamentation and a focus on functionality. You'll also find quite a few wood-burning stoves to make for a cozy modern cabin feel.
Craftsman Fireplaces
Craftsman style fireplaces are a hallmark of this classic architectural style, which originated in the late 19th century and was popularized in the early 20th century. These fireplaces typically feature a simple and elegant design, with natural materials such as stone, brick, or tile. The hearth is often elevated, with a wooden mantle and built-in shelves on either side. The focus is on function, with the fireplace often serving as the main source of heat in the home. Craftsman fireplaces may also incorporate decorative details such as decorative tile work or wrought iron grates.
Classic or Traditional Fireplaces
In this section we're exploring options for bringing modern design elements to your classic or traditional fireplace, blending the elegance and charm of classic style fireplaces with modern materials and streamlined aesthetics.
Natural materials such as marble, granite, or concrete are often used, with a minimalist mantle and a raised hearth. Modern classic style fireplaces may also incorporate unique features such as hidden storage, built-in seating, or a recessed firebox. The result is a timeless and sophisticated look that seamlessly integrates with both traditional and modern interiors, making the modern classic style fireplace a versatile and enduring design choice and one of our favorite modern fireplace design ideas.
Modern Luxury Fireplaces
Modern luxury style fireplaces are the epitome of high-end design, combining cutting-edge technology, premium materials, and sleek aesthetics for a contemporary fireplace design. These fireplaces often feature a minimalist and linear design, with a focus on clean lines and a bold visual impact. Natural materials such as marble, quartz, or onyx are commonly used, often with custom finishes and intricate detailing.
Bright and Colorful Fireplaces
Bright and colorful style fireplaces are a unique and playful approach to fireplace design, infusing a space with personality and vibrancy in any living room. These fireplaces are typically characterized by bold, eye-catching colors, often applied to the fireplace surround, mantle, or even the firebox itself.
Materials such as painted wood, glazed tiles, or mosaic patterns are commonly used to achieve a bright and colorful look. These fireplaces may also incorporate other playful features, such as asymmetrical designs, unexpected shapes, or contrasting textures.
Bright and colorful style fireplaces are ideal for adding a touch of fun and creativity to any room, and are particularly well-suited for children's rooms, playrooms, or informal living spaces. They can be customized to suit a variety of design preferences, from bohemian and eclectic to midcentury modern and retro-inspired.
Mid-century Modern Fireplaces
Midcentury style fireplaces are a key element in the design aesthetic of this era, which spanned the 1940s to the 1960s and probably what comes to mind most often when you think of modern fireplace design. These fireplaces often feature a sleek and minimalist design, with clean lines and geometric shapes. Materials such as concrete, brick, or stone are used in combination with metal, such as brass or chrome, to create a modern look. Some midcentury fireplaces are floor-to-ceiling, while others are built into a wall and feature a raised hearth. In many cases, midcentury style fireplaces were designed to be visually striking, with bold shapes and contrasting materials that make them stand out in a room. Today, midcentury fireplaces remain popular in both original and updated forms, adding a touch of retro-chic to any space.
Cottage Core Fireplaces
The cottage core style adds charm and whimsy to any home. It's inspired by the romanticized notion of a rural countryside lifestyle and while it may be a trend, we think it's here to stay. These fireplaces often feature natural materials such as stone or brick, and may incorporate rustic elements such as exposed wooden beams or vintage reclaimed wood.
The design is typically simple and unpretentious, with a focus on functionality and comfort. Cottage core style fireplaces may include a hearth or a mantel, with decorative elements such as dried flowers, woven baskets, or vintage vases adding to the homey and pastoral feel.
This style is ideal for creating a warm and inviting atmosphere, with a nod to a simpler and slower way of life. And while it feels a bit old-fashioned, these are definitely modern fireplace ideas.
Maximalist Fireplaces
Maximalist style fireplaces are one of the most modern fireplace ideas with an eclectic and bold approach to fireplace design, making a statement with vibrant colors, elaborate patterns, and unexpected details. These fireplaces often incorporate a variety of materials, such as colorful tiles, ornate metalwork, and bold fabrics, to create a look that is maximalist and visually stimulating.
Maximalist style fireplaces are ideal for those who embrace a daring and adventurous design aesthetic, and are looking to make a bold statement in their home. They are well-suited to eclectic interiors, bohemian-inspired spaces, or those with a playful and whimsical style.
Contemporary Cabin Fireplaces
Contemporary cabin style fireplaces are a modern interpretation of the traditional rustic cabin aesthetic, combining the warmth and coziness of a cabin fireplace with sleek and contemporary design elements.
The design may incorporate modern features such as a linear firebox, glass panels, or hidden storage, while still maintaining a rustic feel. The mantle may be rustic and weathered, with exposed wooden beams or reclaimed wood elements adding to the cabin vibe.
Contemporary cabin style fireplaces are ideal for those who appreciate the timeless charm of a cozy cabin fireplace, but also value modern design and functionality. They are well-suited to mountain homes or cabins, as well as urban dwellings seeking a touch of rustic charm.
Southwest Fireplaces
Southwest style fireplaces are a popular architectural element in homes and buildings throughout the American Southwest. These fireplaces are typically characterized by their adobe or stucco construction, and often feature unique design elements such as decorative tiles, wrought-iron screens, and natural stone hearths.
Spanish Fireplaces
Spanish style fireplaces are a classic design element that never go out of style. These fireplaces often feature intricate detailing, such as ornate tile work, carved stone or wood mantels, and wrought iron screens.
They are often constructed from materials such as adobe, stucco, or natural stone, and may incorporate other design elements such as archways, exposed wooden beams, and traditional Spanish lighting fixtures. Whether they are used for heating or simply for decorative purposes, Spanish style fireplaces add a touch of Old World charm and sophistication to any home or building.
Fireplace design is an essential element in creating a cozy and comfortable living space. Whether you prefer the classic charm of a wood-burning stove or the convenience of an electric fireplace, there is a design style and fireplace type to complement any interior design style. With a little creativity and imagination, you can create a stunning and functional fireplace that will become the centerpiece of your home for years to come.
More modern fireplace design ideas: