As we continue to spend more time at home, it's no wonder that the Cottagecore home decorating trend has become increasingly popular. This aesthetic is all about creating a cozy, rustic feel that brings nature and nostalgia into our everyday lives. In this blog post, we'll dive into the Cottagecore trend, discussing its origins, elements, appeal, and offering tips for incorporating all this coziness into your home.
What is the Cottagecore Aesthetic?
Cottagecore (aka granny chic, aka cottage core, aka English Cottage) style is all about embracing a simple and traditional lifestyle, often inspired by rural living. It's a nostalgic and romanticized view of the past, where the focus is on slow living, natural beauty, and a connection to nature. It's a style that celebrates the beauty of the countryside, with its rolling hills, wildflowers, and quaint cottages. Serious grandma-cozy-cottage vibes. Tea anyone?
The Origins of the Cottagecore Trend
The Cottagecore trend emerged in the early 2010s, but it gained significant traction during the COVID-19 pandemic. As people spent more time at home, many turned to activities like gardening, baking, and crafting as a way to find comfort and purpose. These activities are at the heart of the Cottagecore aesthetic and have helped to fuel its popularity.
Fun Fact: Cottagecore and video games have become intertwined in popular culture
Cottagecore and Animal Crossing have become intertwined in popular culture, as both share a similar aesthetic that celebrates nature, simplicity, and coziness. In Animal Crossing, players create their own virtual world, where they can customize their home, garden, and clothing to match the Cottagecore aesthetic. The game's emphasis on collecting and crafting items also aligns with the Cottagecore philosophy of handmade and natural materials.
The popularity of Animal Crossing surged during the COVID-19 pandemic, as many people turned to the game as a way to connect with others and escape from the stresses of daily life. The game's cheerful and whimsical atmosphere, combined with its ability to allow players to create their own virtual Cottagecore world, made it a perfect fit for those seeking comfort and joy during a challenging time.
This isn't just happening in Animal Crossing either! You'll find tutorials all over YouTube for cottagecore Minecraft builds as well. Perfect for all you city dwellers that need a little country in your life!
The Elements of the Cottagecore Aesthetic
The Cottagecore decor aesthetic is characterized by several key themes and motifs, including nature, nostalgia, simplicity, and handcrafted items. These elements are often represented visually through the use of floral prints, natural materials like wood and linen, and muted colors like beige, cream, and pastels. Often these elements are incorporated into other aesthetics to bring warmth to the space. You can bring just a touch of cottagecore coziness in, without going full granny doilies and tea time.
The Appeal of Cottagecore
The appeal of the Cottagecore lifestyle lies in its ability to offer a sense of comfort and simplicity in an increasingly complex world. It's a style that allows us to slow down and connect with nature, and it can help to evoke memories of simpler times. Cottagecore also taps into a desire for authenticity and sustainability, as many of the materials used are natural and environmentally friendly.
Embracing Cottagecore
You don't need to go all-in, but incorporating a just a few Cottagecore elements into your home, can bring warmth and character to any room. Consider using natural materials like wood, wool, and linen in your decor, incorporating floral prints, and choosing muted colors. Opt for vintage-inspired pieces.
Cottagecore Inspiration
Here's a roundup of some of our favorite cottage core rooms. Some of the common threads include: botanical wallpaper, natural materials, original fixtures and appliances, embroidered quilts and pillows, and firesides.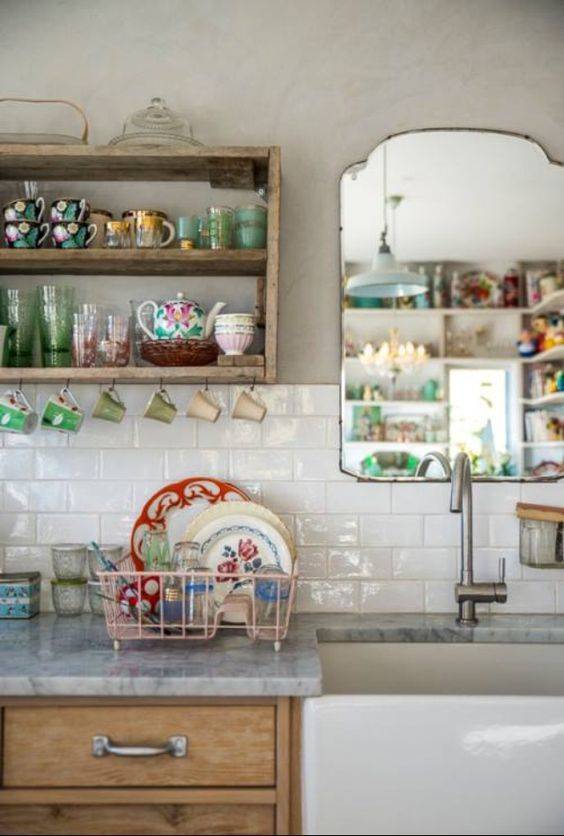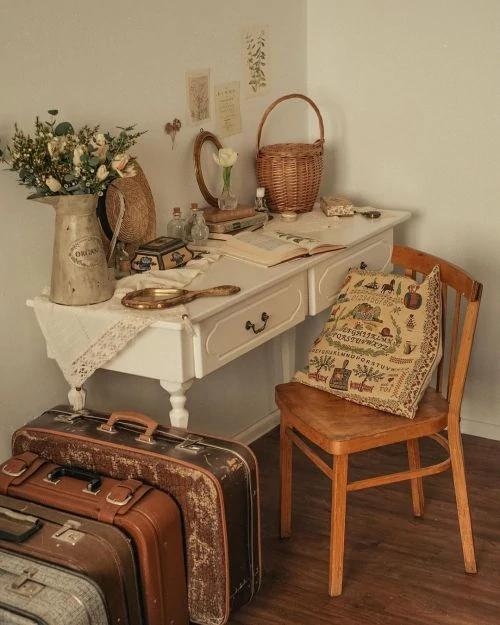 Conclusion
In conclusion, the Cottagecore trend is all about embracing a simpler way of life, connecting with nature, and finding comfort in nostalgia. While it may not be for everyone, it's clear that this aesthetic has resonated with many people as a way to find meaning and beauty in everyday life. Whether you're incorporating Cottagecore elements into your home or wardrobe, or simply appreciating the aesthetic from afar, it's a trend that is likely to continue to inspire and delight for years to come.
Looking for more inspiration?