Step into the enchanting world of architectural allure with our captivating collection of 15 Dark Painted Exteriors that redefine the very essence of curb appeal.
From sleek modern facades to timeless Victorian charm, these bewitching dark exteriors house colors demonstrate the striking power of dark hues in elevating a home's character and leaving a lasting impression.
1. The above photo's dark gray exterior is lightened up with a medium-toned wood stain and brushed nickel hardware.
2. The black paint, pulled from the black in the brick, makes this little house stand out among the bigger structures around it.
3. The black house with a black trim is lightened up with all the landscape and greenery around it.
4. See… dark brown houses don't have to be ugly. (Technically, this is not painted but a dark stained shingle gives the same effect.)
5. This craftsman home painted dark teal with white trim is adorable.
6. Navy painted homes with light wood have my heart.
7. This dark grey is more a medium-dark grey. It looks amazing with the black windows and white painted trim.
8. Rustic exteriors can look amazing with dark paint. I love the contrast of the lighter stone and wood beams.
9. What I love the most about dark painted exteriors is how it creates a great background for landscaping and plants to stand out.
10. What about painting your home dramatic blue? This color is Benjamin Moore, New York State of Mind 805.
11. We love the combo of the black exterior with the pop of the pink door. Paint color is Benjamin Moore's Flamingo's Dream. Image from Hunker.
12. This home is painted a greenish-charcoal called Deep River and the door is Grand Canyon Red, both from Benjamin Moore. Image from Remodelista, At Home in Upstate, New York, with Amanda Pays and Corbin Bernsen.
13. This dark green cabin is from From Country Living, A House Painted a Muted Grey Black with Warm Green Undertones.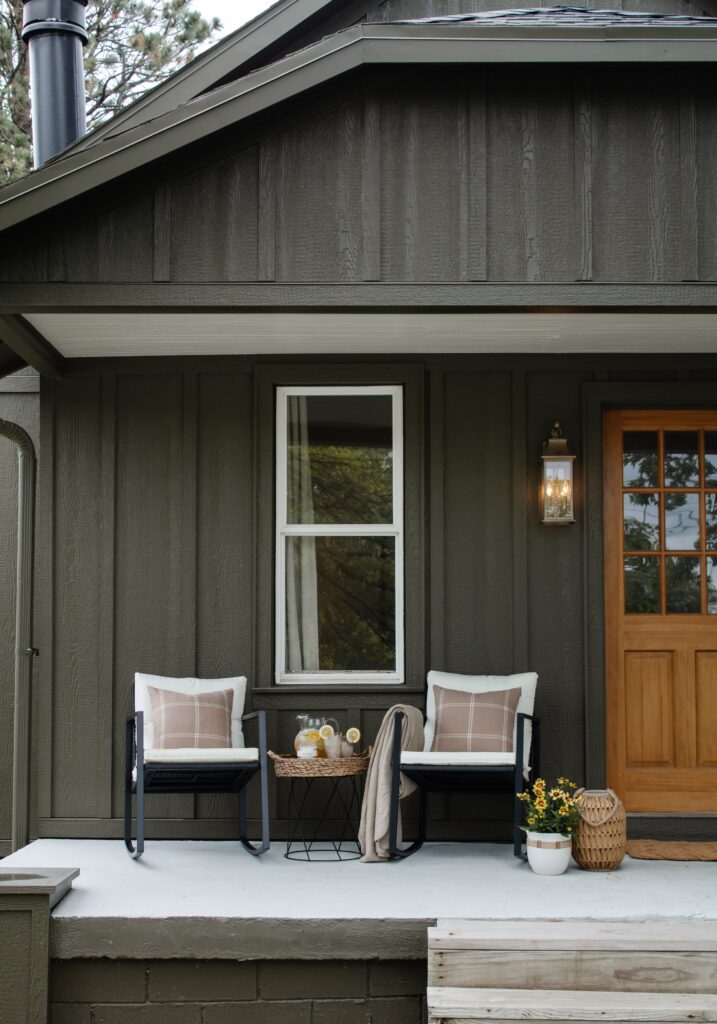 14. This is great dark army green. Perfect with the light wood door. Image from Nadine Stay.
15. The dark black is perfectly paired with the original stonework of this modern rustic barn. Image from Amelia Lawrence Style.
Looking for more curb appeal inspiration?