It's that time of year again! The season to start thinking about our outdoor gardens and spaces! When we first moved into our home three years ago, the outdoor living space was…decent. But it wasn't quite our taste, and that made it a bit challenging to get over what we inherited and visualize an outdoor space that was meaningful to us.
But this year, we decided to take our first baby steps towards a more modern and clean outdoor space. We decided to start with the first thing people will see when they arrive. First up, a sleek and modern outdoor planter for our front patio. This thing is great for planting seasonal greenery and flowers, plus storing it away for the winter months will be easy-peasy.
materials
Planter (pick up a basic plastic planter that suits your outdoor space)
Two eight-foot long 2 x 4s
1 x6 Cedar planks (ours had tongue and groove edges, which was awesome)
Crosscut saw: a hand saw, circular saw, or chop saw will work
Drill and driver bits
Hammer and nails or nailer
Optional: Blow torch and scrub brush
Optional: Kreg pocket hole jig and 2 1/2″ pocket hole screws
Step
The easiest way to begin is by constructing a frame around a storebought planter. Start by measuring your planter. Ours measured 36 x 8″.
Step
Using your saw, begin cutting your 2x4s according to the proper measurements. The inside measurements of the frame should be the same as the plastic planter, plus whatever height you prefer. The end measurements for the 2×4 frame were then 36″ x 8″ x 18″.
Step
Using a Kreg pocket hole jig, create holes in each of your 2x4s. If you don't have a jig, consider investing in one for this project. They're awesome! If not, you can just screw through the side grain with 3 1/2″ long screws. (You can flip the bottom and top pieces to fit).
Step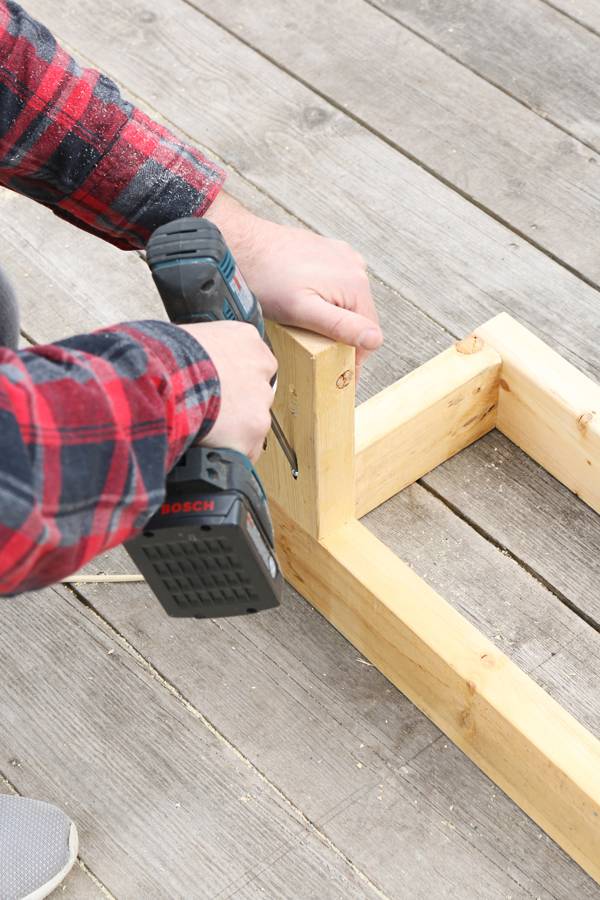 With your 2 1/2″ pocket hole screws, attach your 2×4 frame together accordingly using your drill.
Step
Once your frame is assembled, place your plastic planter into the top. It should fit nice and snug.
Step
Onto the exterior of your frame! Take your cedar planks into a safe area (you'll be using a blow torch for a fun Shou Sugi Ban effect!). Using your blow torch, begin by carefully charring each cedar plank. Use broad, even strokes, just like painting.
Step
Once charred, allow the wood to cool down a bit. Using a bucket of water and a scrub brush, clean the excess char (otherwise everything it has contact with will get black and dirty). All that will be left is the toasted wood.
Step
Allow to dry completely.
Step
Once dried, cut the planks according to the measurements of your 2×4 frame.
Step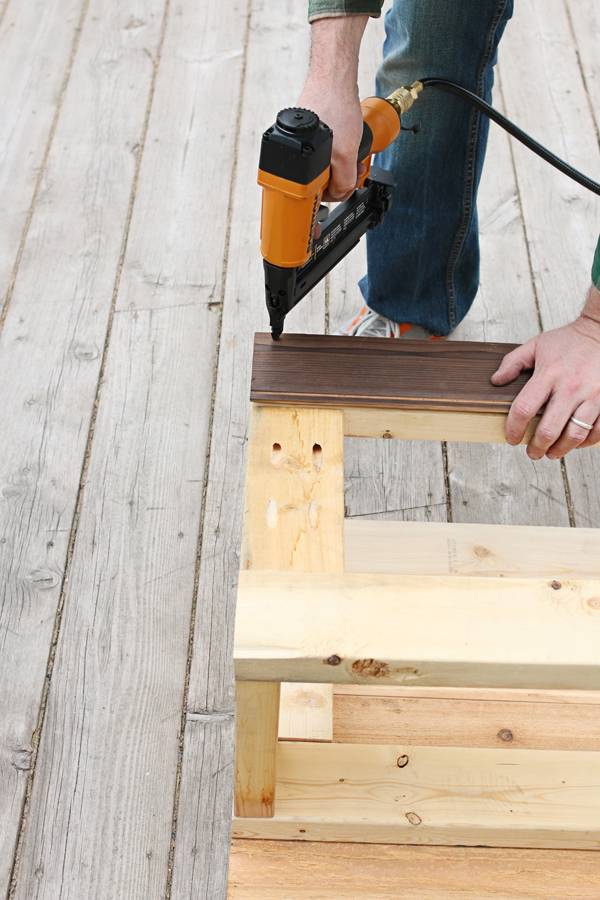 Using a nail gun, attach cedar planks to frame.
Step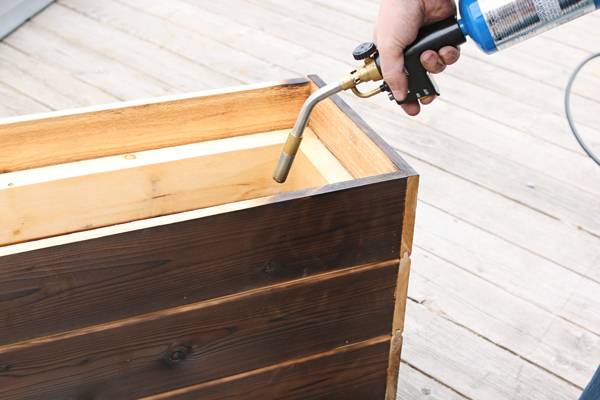 Once the the cedar planks are all properly attached, char any edges that have not yet been treated.
Step
Clean with a wet cloth. Optional: Finish with a natural oil.
Step
Once complete, simply place plastic planter back inside your new wood planter! (The finished frame should measure 38″ x 11 1/2″ x 18″)
Step
Pour in your soil.
Step
Feel free to plant whatever your heart desires. We wanted a modern look, so we decided to plant Bulbous Oat Grass for a sleek finish.
I am in love the simplicity of the overall look and how it instantly modernizes our front entryway. Can't wait to work on our next outdoor project!