Gone are the days when basements were dark, musty, and sometimes feared. They've become a place where you can turn for comfort and relaxation. You no longer have to have a dark bedroom without any windows. Here are eighteen basement bedroom ideas that got it right. Read on to find rooms that you'll be begging to sleep in.
1. This tiled accent wall in the bedroom at top not only adds some visual interest, it helps reflect light back into the room! See more: PPDS Design and Interiors
2. A walkout basement bedroom in the heart of London? Yeah, I'll take it. See more: Kelly Hoppen Interiors
3. Guests can get crazy during movie night then crash in this colorful guestroom! Brilliant. See more: White Crane Construction
4. I love the rustic-meets-modern look of this little bedroom, don't you? Cozy indeed! See more: Houzz
5. Oh, no big deal. Just a basement bedroom with a walkout view of the Puget Sound. Whatevs. See more: Masterson Studio
6. Snazzy!! And integrating a load-bearing basement pillar into the design as a way to designate a sleeping space is just plain clever. Lemons to lemonade, people. See more: Tobi Fairley
7. Clean and simple with a touch of class: I dig it. See more: Lord Design
8. A LEED-certified Mid-Century home in Carmel with an awesome basement bedroom?? Yeah, I would totally sleep here. See more: Carver + Schicketanz
9. Believe it or not, this basement room was previously stuck in the 80's with walls covered in splattered black and white paint! Now, it has become a home office/guest room that welcomes all who need rest after a hard day's work. View the complete transformation on Chris Loves Julia.
10. Designed by Barbara Purdy, this basement was built with a suspended bed to help it hide if you don't want to look at it until bedtime. Though, how could you not?!? I'm ready to nap for days surrounded by the gorgeously painted wood paneling. See more photos of this room and get inspiration for your own basement bedroom decor on House & Home.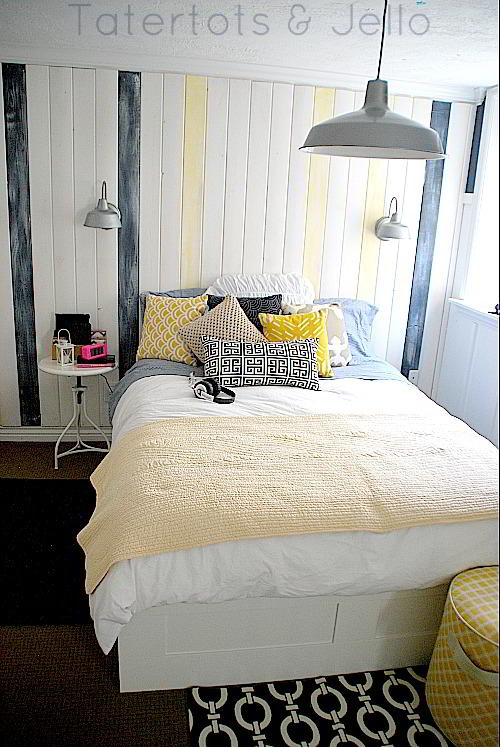 11. We've got some more love of wood paneling going on above. This nautical bedroom makeover by Tatertots & Jello is bright and airy. It doesn't even feel like a basement!
12. To keep the basement from feeling too cluttered, decorate with modern accessories. Choosing pieces with clean lines helps to keep the space feeling open. This basement was created for the Lutz family on Extreme Makeover Home Edition. View more photos on ABC.com!
13. This basement beauty seems larger than it is thanks to the neutral paint and sleek furniture choices. Read more about this bedroom makeover by Home Renovations.
14. Did we mention that we love wood paneling? Paired with billowy accents on the ceiling and pops of yellow decor, this basement bedroom is fun and fresh. Read about this renovation by Melissa of I Still Love You.
15. This basement bedroom seems like a charming and updated hiding place. The wood trim and soft carpet add to the cozy factor. Read more about this renovation on Our Humble Abode.
16. This basement apartment was decorated by Tiffany, an Apartment Therapy reader. She makes great use of space while keeping things simple and white. View more on Apartment Therapy or on Tiffany's Flickr stream.
17. This bedroom was spotted on Callie Grayson. The bed under the basement stairs is one I would gladly lay in for hours. The wood accents keep things modern and neutral.
18. Bunk beds don't just have to be for kids, you know. This basement is nice and open and offers two secluded sleeping spots. The color scheme is warm and inviting and brightens up this used-to-be-dull basement!
Basement bedrooms get a bad rap (probably because they're usually dark and dank and full of spiders). But these inspiration photos show just how incredible a basement bedroom can be!
Hopefully you've found some inspiring basement bedroom ideas that will get your own renovation off on the right track! Did I miss any good ones? Let me know in the comments.