Do you have something about your home's exterior you just can't stand? Maybe you dream of a complete exterior overhaul, but the financial reality of the renovation makes your unappealing exterior completely unchangeable (at least for now). The good news is you might not need to change everything. Maybe all you need is a few simple additions or changes. Here are ten curb appeal updates you can do to help downplay what is unappealing or make the unchangeable something you love.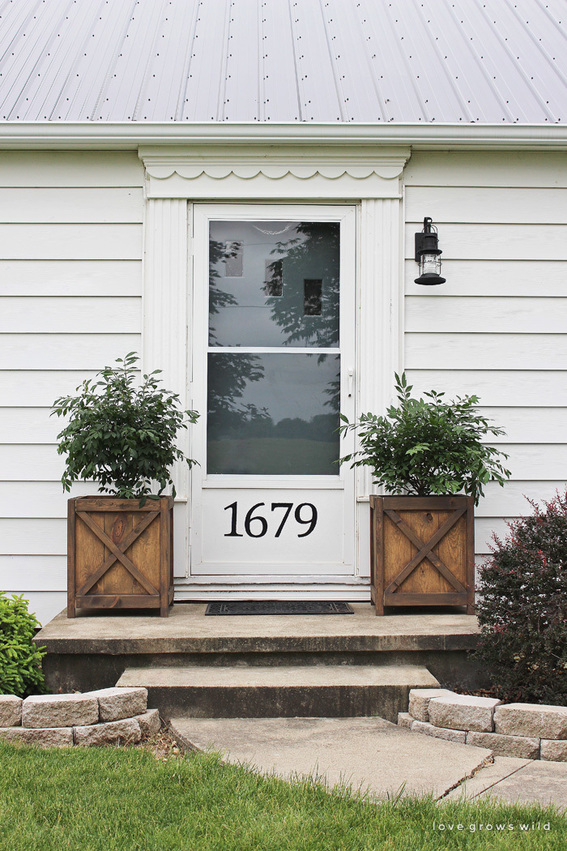 Add something of large scale to your front porch
The farmhouse above is really just a plain white house with old concrete steps. Instead of spending money to add a front porch or portico, the homeowner added large scale features to the existing porch. Large scale door trim, oversized planters, and extra large house numbers give this plain exterior some unexpected charm. Check out what it looked like before here.
Hide the eyesore
Maybe it's the eyesore of the home that is throwing your curb appeal off its game. Think creatively like Tasha did here and cover what's ugly.
Strive to have at least three defining elements to the exterior of your home
In my opinion, the homes with the best exteriors have at least three elements that define their curb appeal. These elements are usually a mixture of texture, color, and architectural details. 
Imagine this home having only one element, the white paint. Pretty blah right? The home jumps from blah to cute by adding the second element of unifying black shutters with the painted black door. They become standouts when the third element, the awnings, is added.
Look at all your favorite exterior Pinterest pins and start counting. They likely have three or more defining elements. Stand back and look at your home and count how many defining elements you have. This might be why your house just feels lacking. If you only have one or two, be creative and think of ideas for how you can add the third element. The remaining tips might give you some ideas.
Bulk up your pillars
Your exterior might need a little more presence or architectural detail. Megan from Balancing Home simply surrounded her iron porch pillars with chunky white pillars. 
Multiply a bold color
Most homeowners only use a bold color for places like the door. If you have a home with very neutral features, why not do the same bold color in more than one way? 
This is a nice home with white trim, beige siding, and beige stone. The exterior has become bright and cheerful because the bright blue is repeated on the door, the shutters, and the porch decor. The trick to multiplying bold colors is unity. Too many different bold colors could start to look confusing. 
Add window boxes
Window boxes can be an easy store-bought fix that adds a ton of appeal to a home's exterior.
Cover a plain or ugly wall with ivy
I love how this ugly concrete exterior wall will one day have an awesome geometric pattern of ivy.
Incorporate colorful and clean
This house is adorable. But if you take away the colorful landscaping, the charming character of peeled paint pillars looks a little old. Your home might just need some great landscaping to help redefine its flaws into something charming … or maybe even hide them.
Paint your screen door
Is your painted door blocked by your screen door? Paint it the same color as your door so the color will stand out. Consider switching out a standard glass screen door for a wooden screen one that can be painted. It will give your home a little bit of architectural detail without having to change your door. 
Find inspiration and copy it
More than likely there is someone out there who has an exterior similar to yours. This person has taken the very thing you don't like about your exterior and made it look amazing. 
If you don't know what to do, find your inspiration and copy it. I have an old home with lots of dark brown brick that can't be changed. To embrace what I cannot change I needed a little inspiration. The above photo gives me a clear direction of what I need to do love my dark brown exterior. When I get some energy and time, I plan to paint my trim white.
What is it about your home's exterior that drive's you nuts, but? Please share any tips on how you updated your curb appeal. Also, check out this Curbly post on how to add curb appeal.