It's probably the kid in me that loves playing with clay. I takes me back to all those hours spend creating shapes and master pieces with play dough.  If you are a maker and love working with your hands, you are going to want to make a set of these simple tropical leaf magnets for your fridge.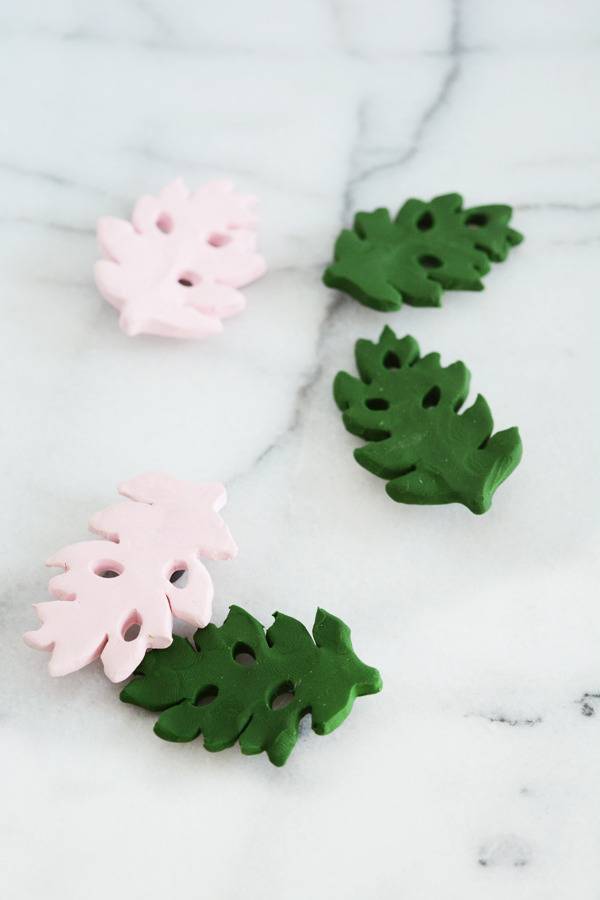 I've been on a tropical leaf kick for a while now.  I was itching to add to my leafy collection. If you love this trend, be sure to check out the Tablecloth and Pillow DIYs.  Oven-bake or FIMO clay is a flash back to my 13 year old self.  I loved to make necklaces and beads using this fun, easy to cure clay.  
Here's what you'll need:
FIMO or another brand of oven bake clay
small 1/2″ round magnets
hot glue gun
plastic drinking straw
parchment paper
Start by rolling out the clay to about 1/4 inch thickness.
Using a small oak leaf cookie cutter, cut out your leaf shapes.
To give the leaves that tropical feel, cut two or three holes in each of the leaves by bending the end of a plastic straw to create an oval shape.  Then, using your finger tips, pitch the ends of the leaves to make them a little more pointed.
Place the leaves on a parchment lined baking sheet, and bake for about 20 mins in a 230F oven (be sure to follow the instructions on the package of clay you are using, they time and temperature my vary).
And once they are completely cooled, attach a small magnet to the back of each leaf using a small amount of hot glue.
This is a great activity to keep your kids entertained during the summer.  Oven bake clay is inexpensive and easy to work with.  Think of all the possibilities of shapes of design you could make to create a custom set of magnets for your fridge.