Searching for the perfect mosaic tile backsplash for your kitchen be overwhelming. The sheer number of options is mind-boggling, which means that figuring out a unique style that fits your personality can be difficult. So today we're sharing some inspiring mosaic tile backsplash ideas that will help you pin down the look you're going for. Bits of china and tile have never looked so beautiful. Here are a few mosaic back splashes that just might make you start breaking dishes. Opa!          
These circular tile mosaics give the kitchen a happy, whimsical sort of feel thanks to their bubbly shape (literally and figuratively). They were made by Clayhaus Modern Tile using their You Design Tool which allows clients to customize the colors of the circles. They also offer hexagon patterns, rhombus patterns, and many others. 
If you're looking for a metallic finish, this mosaic tile backsplash by New Ravenna is made using 24K gold glass, agate and quartz jewel glass. The gilded surface adds a beautiful reflective quality, giving it a sophisticated feel that many other tiles don't have. The unique design makes it feel very high end.
This backsplash and countertop is made using recycled glass, so it resembles the terrazzo pattern that is so popular lately. While this doesn't appear to technically be a mosaic tile made with mesh backing, it still achieves the same look thanks to its many small pieces. Read more about it here.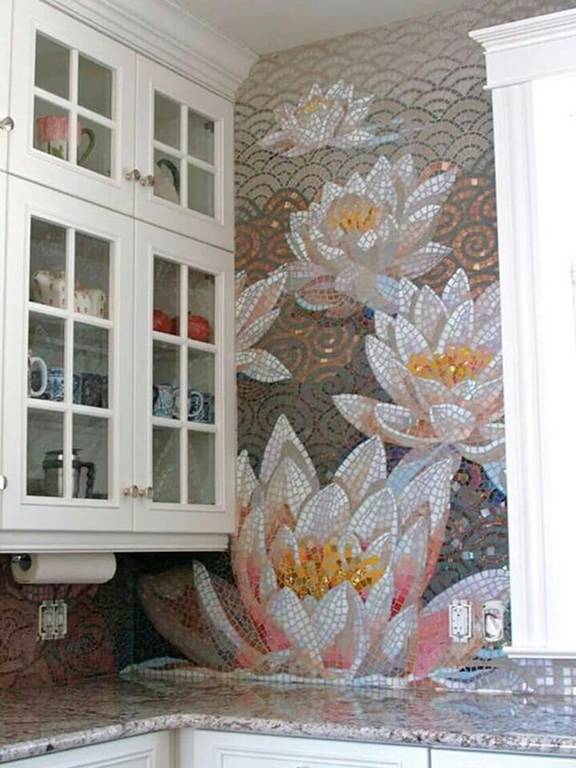 If you're really looking to go bold, you might consider tiling an image on your backsplash. This definitely requires prior mosaic tiling experience, but if you've got it, flaunt it! (Otherwise though, hire a pro). This will make an incredible impact on your space, and will forever be a conversation piece for your guests. 
This mosaic tile backsplash is made using a variety of different types of tile, and even utilizes broken pieces of pottery in many areas. And they took it one step further, making it functional by adding a broken half of a mug to hold pencils and a pair of scissors. What a unique idea!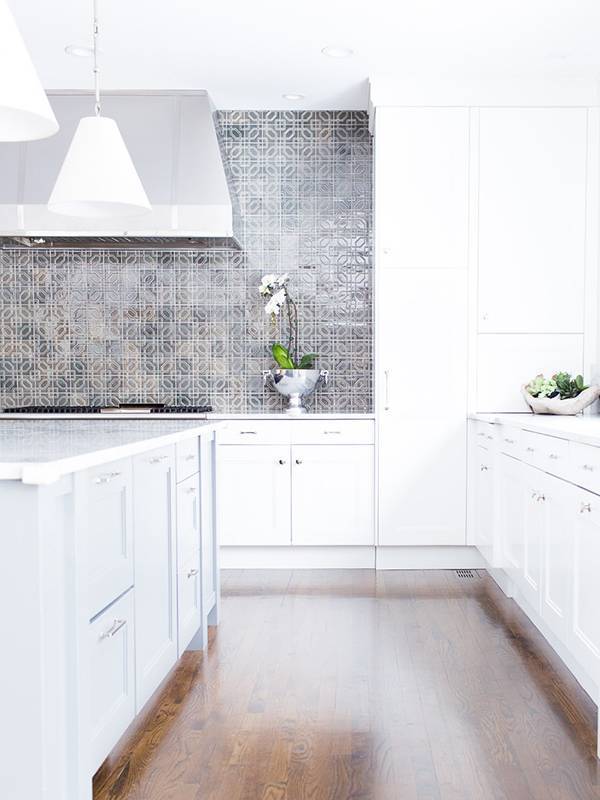 This beautiful mosaic tile backsplash is really two patterns in one… the shapes made by the grout lines and the subtle colors in the tiles themselves which form a lovely natural brown hue all together. Something like this which combines both geometric and organic shapes would perfect to offset any kitchen that is feeling too white. 
This light colored mosaic kitchen backsplash has the look of penny tiles with a more contemporary vibe thanks to the triangular tiles. The subtle variation in color from tile to tile picks up the surrounding hues perfectly, tying in the warm wooden countertop and the crisp blue walls.
Marisa over on Design Sponge chose to use black grout in her colorful backsplash. 
Check these two out from Therese Dejardin Studio. 
Adore the sweet contemporary pattern of this one, which relied on a tile cutter rather than a hammer for its creation.
And, finally, Ginger's Major Mosaic Kitchen Makeover posted right here on Curbly a few years back, which is so great it needed another shout out.
---
Have you seen any other interesting backsplash ideas? Feel free to share them in the comments section below!