If I had a dollar for every time I received a request to take on Donald Trump's interior design, I'd have enough to buy coffee for quite a few weeks – no small feat. 
As the Internet's chosen McMansion taxonomist, I have spent a lot of time with tacky. After spending so much time with tacky that my fingers have started to stick together at the mere thought of a grand estate, here is my thesis: 99% of McMansion decor is inspired by people like Donald Trump. As Fran Lebowitz so elegantly put it, "Donald Trump is a poor person's idea of a rich person." It's a pretty simple system, really: gold = rich. Columns = rich because banks have columns. Chandeliers = rich because they're big and shiny. You catch my drift. 
We as people have been fascinated by the dwellings of celebrities since the dawn of celebrities, who, back in the day, were usually royalty or the Pope. Donald Trump's Manhattan penthouse apartment is a particularly interesting (and recursive) instance where a celebrity decorates based on the taste of previous celebrities. In this case, King Louis XIV and King Louis XV of 17th and 18th century France. Luckily, the world was spared from the continuation of the heavily ornate Rococo style for a couple centuries thanks to the French Revolution. Then the 80s happened, and Donald Trump came with them. A fun guessing game to play is: Is it the French Palace of Versailles or a Donald Trump apartment? 
The difference between 18th century France and 21st century America is that the insane opulence of the French royalty inspired the country to rise up against tyranny and send them all to the guillotine. Yet, in America, it inspired a large number of people to vote for Donald Trump for president. Crazy, right?
The following photographs of Trump interiors were originally by Sam Horine and have been adapted by yours truly in this post for the purposes of education, satire, and parody, consistent with 17 USC §107. Donald Trump himself was a product of the 80s and their excessive opulence as a cultural response to the political and economic strife of the 1970s. I have supplied this post with supplemental material from my 1980s interior design catalog collection for your viewing pleasure. 
Entering Trump's Living Room
So expensive, and yet I am still questioning whether or not the pilasters are actually plastic.
Living Room Shot # 2
Louis XIV would totally have dug the glass table. Also yay, political joke! 
Zooming In
The Trumps must redo the carpet every year, right after Donald goes and gets his hair reinstalled. (Bad–um–tish)
Spotlight: Chandeliers
As we can see, chandeliers in the 80s were basically more of an arms race than the actual arms race that was happening at the end of the Cold War. Trump has done a good job establishing his dominance on the market, making sure that he is tremendous at chandeliers – really the best chandelier guy. 
Detail: Living Room Coffee Table
If Elsie De Wolfe is mentioned in that book, she's probably turning in her grave.
Detail: Other Living Room Coffee Table 
Stuff rich people have on their mantles: decorative plates, vague statues, and oil paintings.
Spotlight: The Fireplace 
Dining Area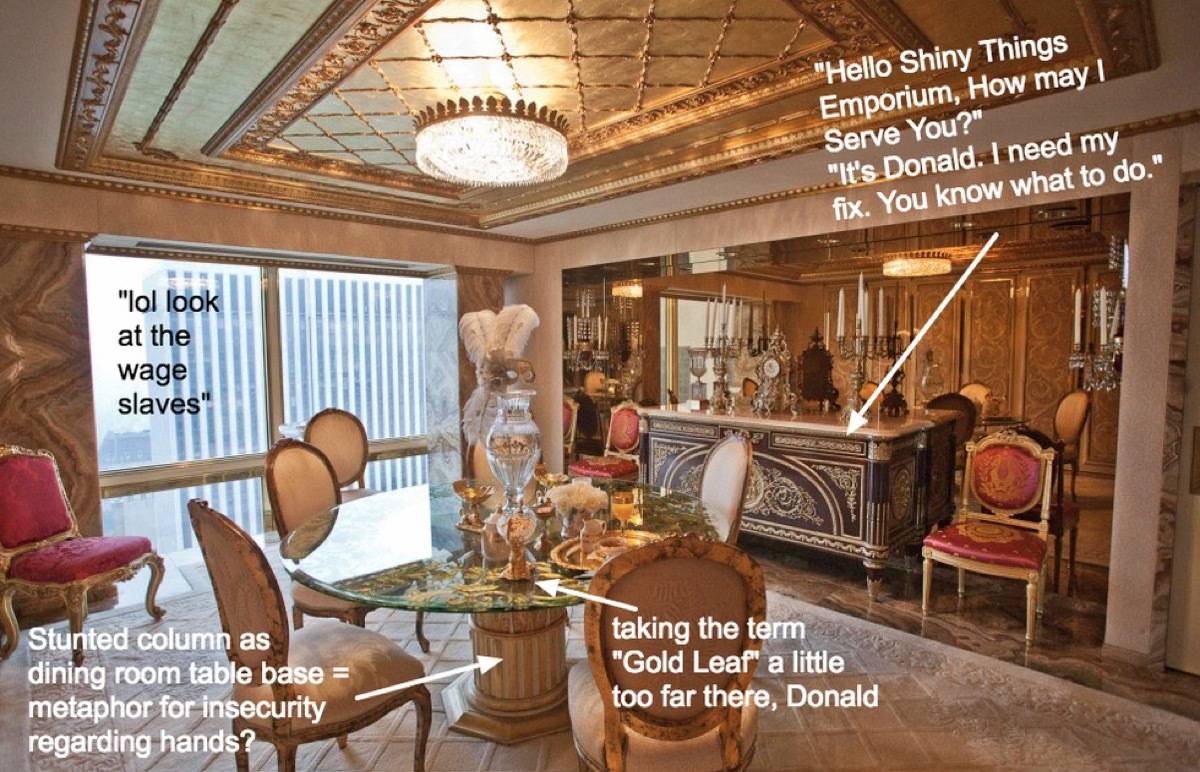 I was curious about the Rococo furniture in this room and its authenticity, so I made a phone call to my sister, Susannah, who studies antique furniture history, repair, and reproduction at the University of North Carolina School of the Arts. She had this to say about it:
It doesn't appear to be of terrible quality. As far as French Baroque reproductions go, these are on the higher end – but I doubt Donald is dishing out artisan pay to have custom ormulu or marquetry. They appear to be painted with a faux gold leaf instead of gilt bronze or any other type of period-correct metal, which only a skilled artisan knows how to work with. As for reproduction Louis furniture goes, some of this is pretty okay, though it's all obviously modern and manufactured rather than crafted – hence why they're all perfectly identical. Handcrafted furniture has small variations between pieces. 
Luckily for all of us, I have period 80s sources for the tackiest, most ridiculous Baroque furniture reproductions. Even Donald isn't this bad.
Wait, I stand corrected.
Melania's Office 
I'm very disappointed, however, that, despite my intensive search, I couldn't find pictures of the apparently apocryphal Trump golden toilet (or any of his private rooms in general.)
I'm just going to go based on what I've seen and assume that Trump's penthouse bathroom looks something like this:
Either way, Donald Trump is a living McMansion, and continues to personify the saying "money can't buy taste." Hopefully, the White House will be spared the gold leaf.