One of my favorite things about the autumn months is coming home at night and snuggling by the heater under warm blankets with candles or incense burning in the background. The heavenly scents help me to unwind after a long day at work, and incense holders are so easy to make that there's no excuse not to have a stick or two burning away while you cozy up and get stuck into that good book. Click through to learn how to make your own DIY incense holder, and head to the bottom of the post for more information about the benefits of incense!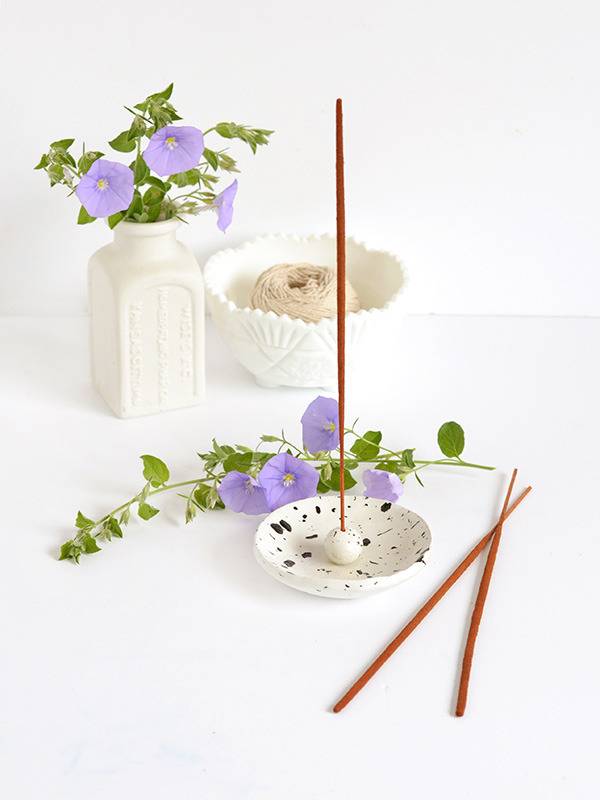 Watch our video on YouTube to see how easy it is to make this DIY incense holder, and keep reading for all the details.
---
DIY Clay Incense Holder
Materials:
Small bowl
Rolling pin or jar
Skewer or toothpick
Step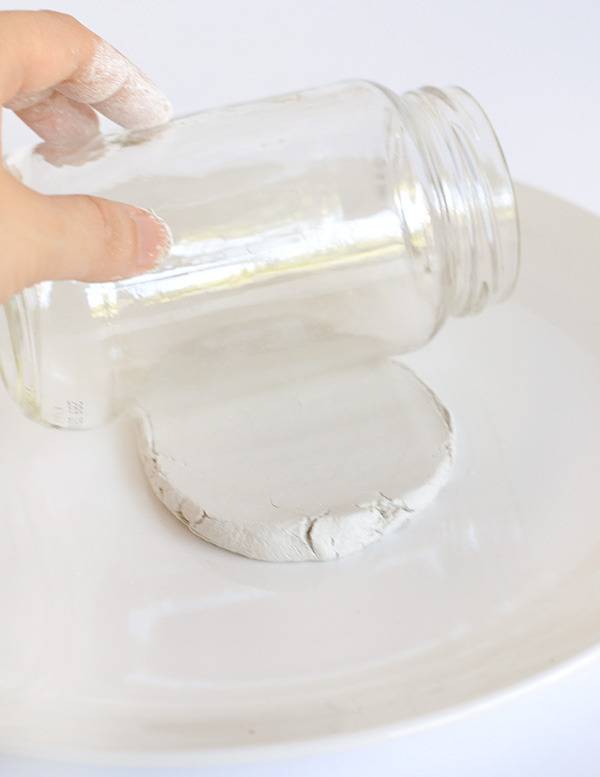 Roll your clay out until it's around 1/4 inch thick.
Step
Place a small bowl face down on the clay and using a scalpel, cut around it to create a clay circle. Then place the circle into your bowl, pressing down lightly to mold it into a bowl shape.
Step
Use a knife to neaten the edges of your incense holder, and then dip your fingers in a bit of water and smooth out the surface so it's free of cracks and ditches.
Step
Leave your bowl to air dry according to the clay manufacturer's instructions. While you're waiting for that to happen, roll some of your leftover clay into a small ball.
Use a skewer to poke a hole in the top of the ball. Get one of your incense sticks and make sure it fits in the hole you created. Then leave the clay ball to air dry, preferably overnight.
Step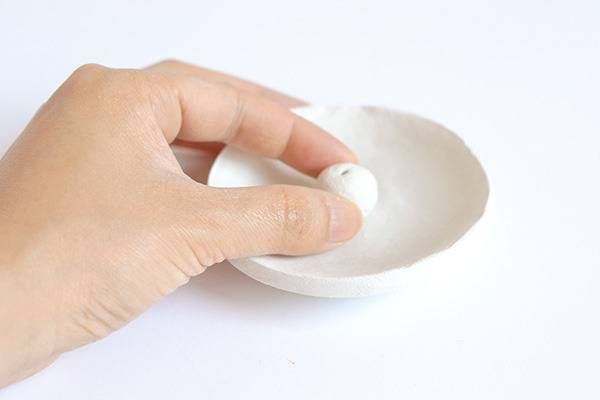 Once your clay bowl and ball have both air dried, use strong craft glue or super glue to affix the ball to the bowl.
Step
Dip a paintbrush in black acrylic paint and start splattering your incense holder by flinging downwards with your brush over the clay. I didn't want my splatter drops to be too big, so I didn't put too much paint on my brush and I tried to splatter from up high so the drops were smaller. This gets messy so its best to do this outdoors or somewhere where you don't mind getting paint everywhere!
Step
Once the paint has dried, give your incense holder a couple of coats of varnish to protect the paint work and give it a gloss shine.
---
Benefits of Burning Incense
There are lots of reasons to make an incense holder to burn some incense in. Your sense of smell is closely related to the part of your brain that stores memories. As such, different aromas and scents can trigger some pretty comforting, happy thoughts. Specific smells can even encourage relaxation, increase motivation, and stimulate creativity.
How Different Scents Can Affect Mood
Incense comes in a variety of scents and blends. Of course, you can burn incense for the pleasant odor and aesthetic — however, if you're looking to reap specific benefits from your incense, here's what to seek out:
Sandalwood, frankincense, and cedarwood | Warm and woody, these scents are great for meditation, as they have a calming aroma.
Nag Champa | It's the kind in the blue box that we all know well, and it's actually a combination of ingredients. Sandalwood mixed with frangipani (a type of flower) will help you relax and find clarity.
Lavender, chamomile, and vetiver | These three aromas provide relief for those with insomnia or problems resting, as they are relaxing and can make you drowsy.
Rosemary | This sharp, woodsy scent also aids in relaxation, but additionally can help with muscle tension as it increases circulation.
Citrus, lemongrass, and ylang-ylang | These bright scents are uplifting, bringing focus and clarity while inspiring creativity.
Rose and patchouli | These two heavy scents have been known to raise serotonin levels in the brain, which causes feelings of happiness and lessens depression and anxiety.
---
Our Favorite DIY Incense Holders
If you are on the hunt for a heartfelt gift to give a friend or family member, or if you want to burn incense in your own home, a handmade incense stick display is a great option. Here are some of our favorites:
And, if you're interested in making your own unique incense sticks, check out this article from Wild Turmeric.
---
Where to Buy Incense
So, are you ready to hop on board the aromatherapy-train? If so, you'll have to start by getting your hands on some incense sticks! There are plenty of big box stores that will likely have them in stock: Walgreens, Whole Foods, The Dollar Store, Fred Meyer, and Wal-Mart, to name a few.
If you're looking for unique scents and lots of options, try your local food cooperative, natural foods store, or gift boutique.
Of course, the internet is going to provide your biggest selection of options. Check Etsy for every scent you could ever imagine, and even create your own combination packs. P.F. Candle Co., known for their outstanding and one-of-a-kind scents, also offers their fragrances incense-stick form.
And finally, stores like Urban Outfitters and Free People have joined in on the incense bandwagon, offering lots of scents in their stores and online.