If you have ever leased a home, you know the struggles that can plague a rental bathroom. Unless it's a brand new building, the restroom is likely going to have a unique set of unfortunate details. I've been a renter for all of my adult life. I've seen my fair share of bizarre bathroom situations – from lime green walls to landline phone accessibility next to the tub (true story). My current apartment bathroom has it's own flaws that over time I've either figured out how to disguise or how to live with. Here's my advice on how to deal with an unsightly apartment bathroom, from one renter to another.      
1. Say "yes" to curtains 
Personally, I am not a fan of glass shower doors, especially the ones in my apartment bathroom. The doors are not only difficult to clean (they overlap, so you have to use a toothbrush if you ever want to clean between them!), but they're… um, artistic too. There are bizarre silhouettes of geese and cattails etched into the glass doors like some sort of Thomas Kinkade painting. It's strange, and impossible to decorate around. While I usually try to cooperatively decorate around oddities in my rental home, sometimes it's easier just to cover up the ugly. With a tension rod and a shower curtain, I can forget those etched geese ever existed.
Curtains aren't just for the shower, either. With a bit of velcro, you can hang a curtain under your pedestal sink to hide ugly plumbing, or to create more storage room. 
2. Use matching storage that is not see-through
Some rental bathrooms require you to purchase additional organizers and storage solutions. While the internet is awash with images of beautiful, open-shelving arrangements, reality is a little messier. Balance between displayed and disguised. Do yourself a favor and grab some less-visible storage to keep the bathroom essentials that just aren't going to look pretty no matter how you style them. This can include close-weave baskets, lined baskets*, or boxes. 
Any storage you do gather for your small bathroom should match in some fashion, whether that be a literal matching of color or metal, or keeping all your storage bins in the same decor theme.
If you have a plastic tub, shower, or sink, give your bathroom a once-over with an eraser cleaning pad. I wish I had figured this out earlier. Every time I'd go to clean my tub, I'd scrub and scrub with abrasive cleaners and cleaning pads, but the cleaning always went at a snails pace. A "magic eraser" is by far the easiest way to remove all the soap scum leftover from renters past. You'll thank me after you discover what color your tub actually is. 
4. Become BFFs with peel n' sticks
As a renter, contact paper is your friend everywhere in your home, even in your bathroom. Don't like the look of the shelving? Cover it in contact paper. Hate the color of a wall? Cover it in contact paper. Shower doors got you down? Cover them in contact paper! For the best peel n' stick stuffs, check online: If you're looking for removable tile, try Home Depot. For contact paper, try:
For removable wallpapers, try:

The shelf in my own tiny bathroom was A. Peeling, B. Sort of reddish color which didn't match anything else, and C. Kind of gross. I removed it from the wall, wrapped it in shelf liner (I like this rosewood self-adhesive vinyl liner), and hung it back up. When I move out, it'll be a quick process to strip the shelf of the liner. 
5. Get a plant (or two or three) 
Nothing makes a room feel more welcoming than a bit of greenery. If you have a window in your bathroom, awesome! Find a house plant that likes humidity (orchids, air plants, ferns, etc.) and you're good to go. Low light? Try a snake plant, rubber plant, or pothos. If you're nervous you can't keep even the heartiest of house plants alive, opt for some fake greens instead.
6. Hang some (replaceable) art
Just as filling the walls of your living room or bedroom can instantly make the space feel more like home, the same can be done in your bathroom. When hanging art, pick pieces that can hold up to the moisture that builds up in the baño, or pieces that you aren't attached to long-term.
7. Buy a new toilet seat
I wanted to start off the list with this one, because it's something you should do the day you move in. But "buy a new toilet seat" isn't a super sexy way to start a round-up post. It's the truth, though. There are some things that aren't worth cleaning, and a used toilet seat ranks pretty high up there. While this change may not do much visually, it'll make you feel better emotionally.
If you want to feel better emotionally and physically, you can't do better than an over-the toilet bidet. They're affordable, a cinch to install, and will change your life forever. (Bruno has written about this at length)
8. Don't fight what you can't fix
The reality of rentals is that there are some things you just can't change – like the flock of awkward geese on my shower doors. If you can't disguise it or cover it up, you have to learn to live with it. Pink bathroom tiles? Pick complimentary greens to decorate. Oddly placed radiator? Embrace it as shelf space. If you fight the space, the space will fight back.
9. Deal with the gross, moldy caulk
Of all the issues that I've dealt with living in rental bathrooms, this is the most consistent. There is always mold in the shower, and it's always nasty. There are lots of solutions for dealing with black mold or mildew, but using bleach is generally the quickest and most thorough method.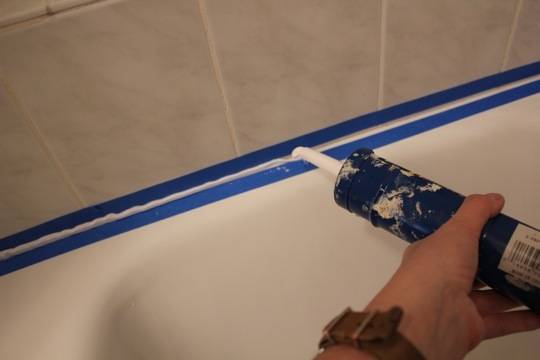 If the caulk is too far gone, you can always pull it all up and replace it. This renovation will take a few days between drying and curing, so set a good chunk of time aside before you start. 
10. Keep it clean, y'all.
My best piece of advice for having a nice apartment bathroom is just to keep it clean. You may not be in love with the space, but you'll definitely appreciate it more if it's sanitized and sparkling. A clean bathroom is a dream bathroom – just think back to your last road trip!
---