Driftwood is one of those wonderful things that suits just about any decor, and it came be used as effortlessly inside as outside. To celebrate our favorite "found" wood, we've gathered together 15 ways to use them in our homes. We hope you love them as much as we do!
1. Erlend's DIY driftwood photo display is so simple and yet so stylish. Visit Morning Creativity to see how to make one of your own. 
2. Jellybean's votive holders remind us of romantic fires on the beach. If the flame + old wood combination makes you nervous, battery operated votives could work too. Check out the tutorial at The Gold Jellybean. 
3. This driftwood shelf was available to purchase for $79 at Scoutmob, but we think it would be a breeze to DIY. 
4. These bookends were made by a  member of Folksy. They're currently sold out, but what lovely inspiration to make our own driftwood bookends. 
5. This bowl was another purchased item. But if we look on the inside, we can see how it was put together. A lot of patience and some nails! Visit Unskinny Boppy for more information and pictures of the bow. 
6. If you're wondering how to keep the shape of a bowl made out of driftwood, check out Marji's driftwood nest/basket project. It could be perfect for an Easter/spring centerpiece. 
7. This jewelry holder couldn't be easier to make. The trick is to finding an appropriately shaped piece of driftwood. Visit Storage and Glee for more information. 
8. For a more challenging project, check out this rustic table. We particularly love the "Y" leg in the background! Visit Esprit Cabane to see how to make one for yourself.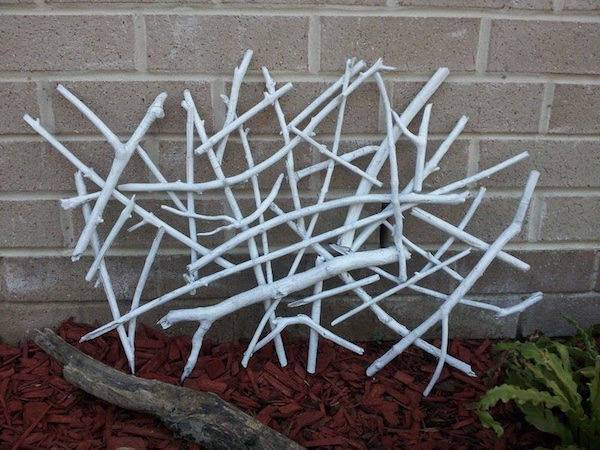 9. A simple construction of driftwood can make for lovely wall art that would be as comfortable hung behind a sofa as on a garden shed. See Cut Out & Keep for all the DIY details.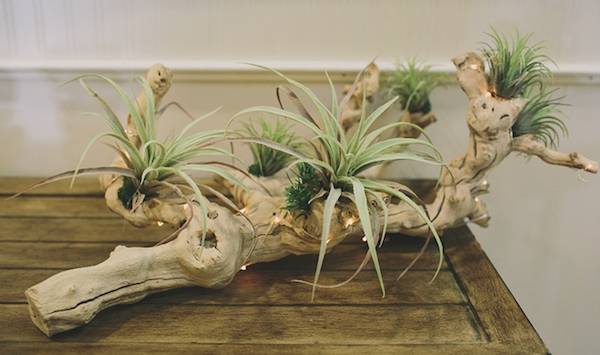 10. Driftwood and tillandsia go together like PB&J. This particular creation would look lovely as a centerpiece on a table or a statement piece on a mantle. (P.S. Imagine the wall art above couple with some tillandsia.) To read how it was constructed, visit Save On Crafts. 
11. This driftwood mobile was created by artist Reba Stewart, and we adore it. We also think it serves as inspiration for a DIY version. We particularly like the refinement of the added chain. To attach the chains to the individual pieces of driftwood, small threaded eyelets are the way to go. To find out more about Ms. Stewart and her work, visit MIT.edu.
12. Speaking of dangling driftwood, Susan Castor created this driftwood curtain for the Cinnamon Shore Beach House. According to Apartment Therapy, Susan drilled small holes in each of the driftwood pieces, then strung them on wires which she attached to a boards, one affixed to the ceiling and the other the floor. 
13. No driftwood roundup would be complete without a couple of mirror projects, so here we go. This first one of the starburst variety comes from City Farmhouse.
14. For you more linear types, this rectangular option could be a perfect addition to your decor. Visit The Wood Grain Cottage to see how to make one.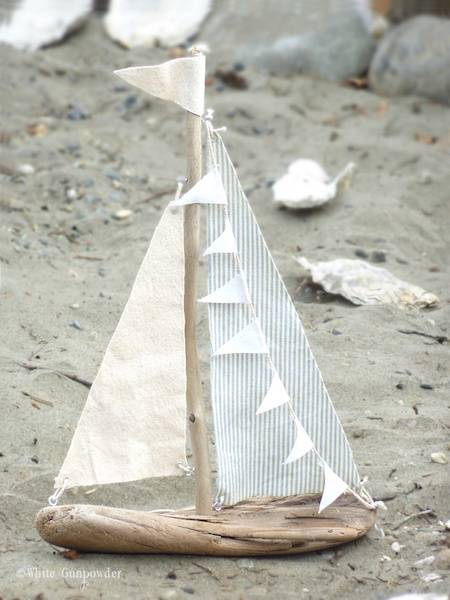 15. And, finally, this oh-so-sweet sail boat art piece. Kay from White Gun Powder tells us how she made it. As a matter of fact, it's so cute and easy to make, you might want to make a trio like Kay did!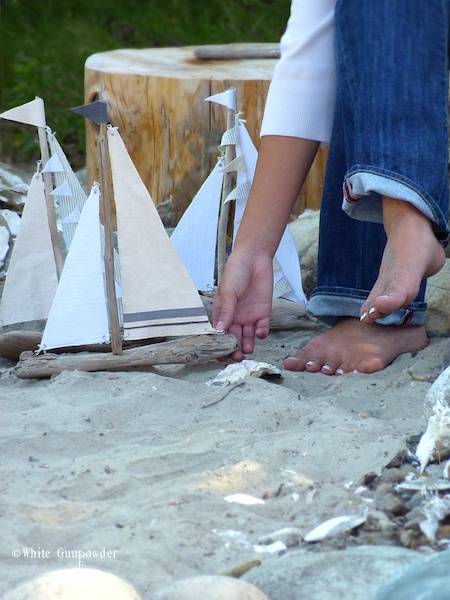 For more ways to add natural elements to your decor, check out this recent Curbly post!