It had been a while since I've scored a good thrift store treasure, but I certainly hit the jackpot the other day! I came across a large brushed-brass tray that I knew had to come home with me. It was a little gaudy, I'll admit, but I decided to give it a whole new look with this DIY Moroccan-inspired side table. 
Oh! And keep this diagram in mind for reference and further clarity. 
Materials
For this project, we used a template so that we could have straight lines and perfect angles for our final design. For the template and additional materials, you'll need:
Instructions 
1. Using the table saw, set your fence at 1/2″ from the blade. Rip two strips of MDF at least 2′ long. Set your fence 4″ from the blade and rip one strip of MDF 2′ long. You could also have this cut at the hardware store. 
2. Using the mitre gauge, cut your 1/2″ strips to 14″ long. Cut your 4″ strip to 11″ long. 
3. Use the Kreg pocket hole jig to drill two holes in each end of the 4″ strip.
4. Arrange your three pieces as shown in the diagram and screw in place using 1″ pocket hole screws. You now have your template complete. 
5. Adhere your template to the 3/4″ plywood using double-sided tape.
6. Cut your first leg out using the router with flush trim router bit. Repeat with second leg. 
7. Find the half-way point in the cross bar of each leg. Mark it out with a speed square or measuring tape. Your notch should measure 3/4″ wide (the thickness of your plywood) and 2″ deep. These notches should be made at the top of the cross bar in one leg and the bottom of the cross bar in the second leg, so that they fit like a puzzle. 
8. On your band saw, cut a series of kerfs in the marked out notch area on both legs. 
9. Use a chisel and file to finish out the notches. 
10. Measure the bevel of your tray and cut out two 45 degree bevels on the tops of the legs for the tray to fit in snuggly (will vary depending on size and shape of tray).
10. Sand all three pieces of your table (both legs and tray).
11. Wipe with a damp cloth and spray paint all pieces flat black. Repeat until you have the desired color. Allow to try completely.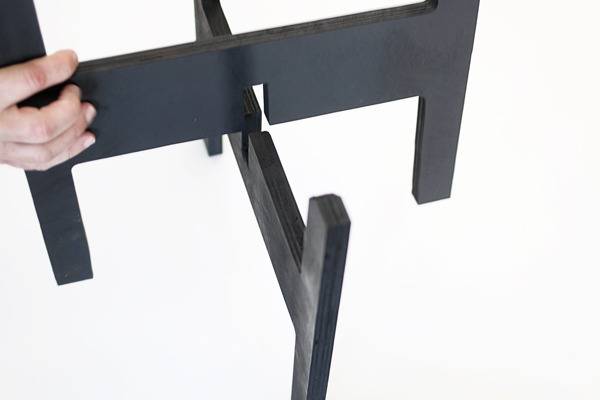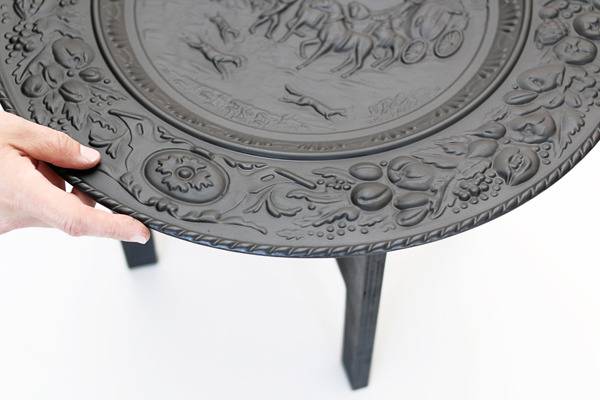 12. Assemble the two legs according to your notches. Place tray on top and then enjoy! 
There may be a lot of steps to follow, but I promise it's really quite easy. The all black look is modern and neutral, so the table can easily fit into an array of design styles and spaces! The tray is full of gorgeous details and adds great texture and character to the room. The best details is how easily you can collapse the table if ever you need the extra space or are looking for a bit of change!