This is not a post about deceiving your landlord. This post is about updates you can make to your rental that more than likely don't need your landlord's permission. My husband and I are landlords. Rentals are a part of our full-time job; so here are some things WE wouldn't mind you doing if you lived in our rentals … and I bet your landlord might feel the same way. If you're sick of ugly apartment cabinets and want to cover them, or just can't stand the light fixtures in your space, here are some simple ideas for you.
1. Create your own walls with pieces of furniture.
Need more rooms or spaces? Create them with furniture.
2. Change up the kitchen cabinet or bathroom vanity hardware.
New knobs can change a bathroom or kitchen, and they are really easy to change. I would buy some fun ones that you might use again … maybe in your new home or on a piece of furniture. Make sure you store all the old knobs with all the screws so you can easily put them back on when you leave.
Don't do: Don't drill new holes. You do need to ask permission to drill any new holes. Don't switch the hardware out with something you would need to drill a second hole or a hole in a different place. If your cabinet does not have hardware then you need to ask to drill holes.
3. Remove your kitchen cabinet doors.
If your rental has ugly doors and you happen to have some awesome kitchenware that needs to be displayed, then go ahead and remove them. Make sure you store your kitchen cabinet doors in a place where they will not be damaged. Make sure you are extra careful if they are painted just to be thoughtful. Don't want to remove the doors? You can make temporary cabinet covers by concealing ugly doors with removable adhesive paper (contact paper).
Don't do: Don't lose all the hinge hardware or putty fill the door holes. Remember, kitchen cabinets are a very expensive fix so store them well. Not storing them well will probably cause you to have to pay a hefty price.
4. Do use temporary wallpaper.
If you have a landlord with a "no paint policy" check out the paint-able and totally removable wallpaper from Tempaper. There are many brands of temporary wallpaper and as long as it is installed and removed well it will more than likely be okay with your landlord.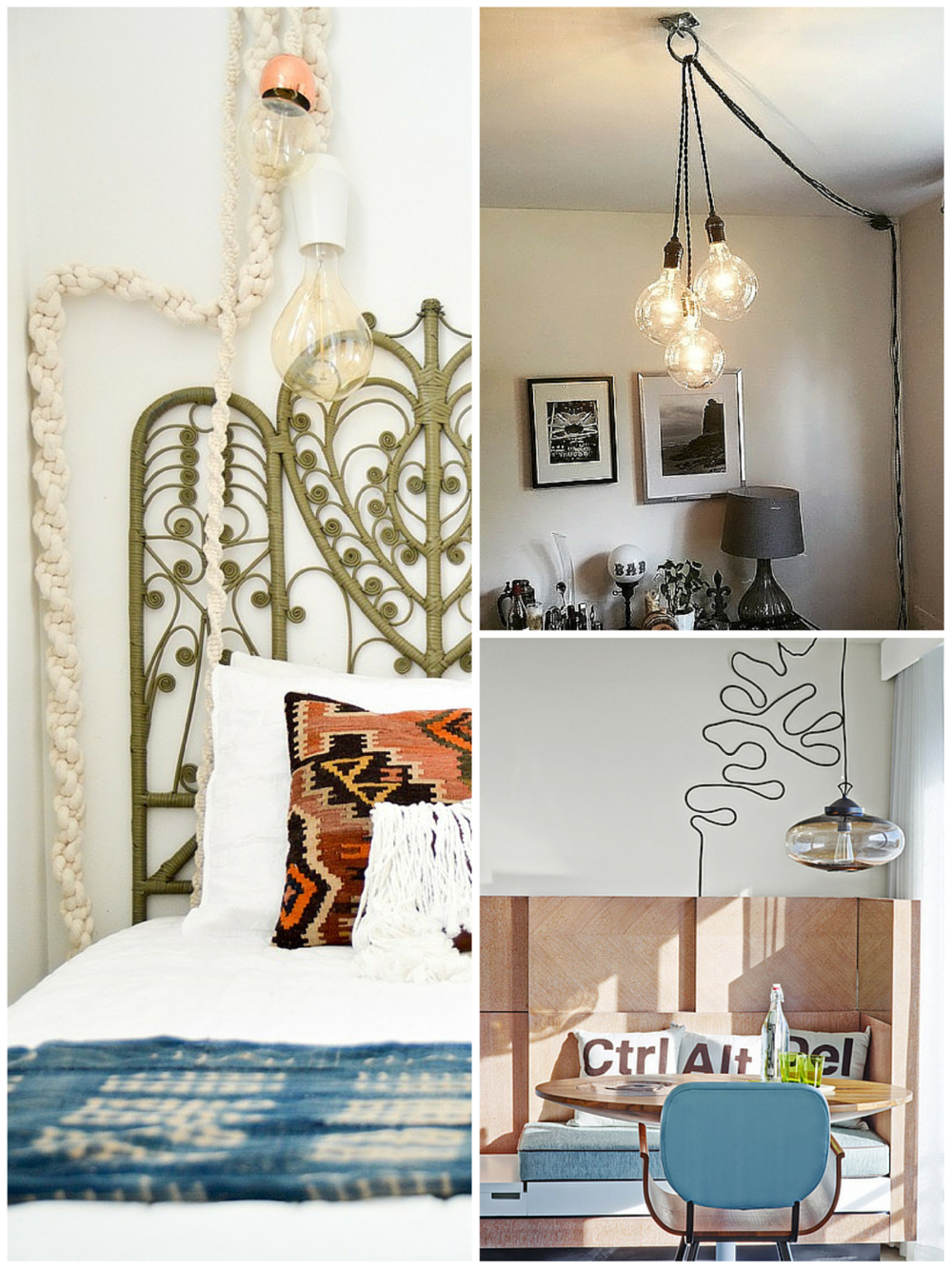 5. Install plug-in pendants.
If you are allowed to drill into the wall then there should be no problem with installing a hook into the ceiling. This is an easy way to make your rental look custom and then take that custom look with you when it's time to go.
Don't Do: Use the wrong hook or hardware to install into the ceiling. Doing this will make the hole bigger than it needs to be and a not so easy fix for your landlord.
6. Do switch up the shades or bulbs of your light fixture.
There are so many ideas out there to spruce up existing fixtures. Make sure your store the original shade or bulb so you can return it when you leave.
Don't Do: I think changing the light fixture without permission is a bad idea. It never hurts to ask but don't be mad when your landlord says no. My husband is a general contractor and even he won't install a new light fixture in one of his rentals. Why? If the licensed and insured electrical company installs your fixtures, then if something goes wrong, only they are liable. How do I, as your landlord, know you know electrical work? If something happens then I am liable. If you are that passionate about it, tell your landlord you will pay for his electrician to come install it and then re-install the original one when you leave. Safe people are happy people, right?
7. Do take the closet doors off.
Again, as long as you store them well and put them back on when you leave then your landlord should have no problems with this removal.
8. Do use rugs to cover ugly floors.
Whether it is gross carpet or really ugly vinyl … a rug can right some wrongs. If you have ugly kitchen vinyl, buy a vinyl sheet remnant and cut it as large as you need it to be. Turn it over to the white side and paint it. Use rug tape and you have a water friendly and mop-able way to cover some serious ugly.
9. Do install outside mount roman shades to hide ugly or broken blinds.
In this living room makeover I hid the white blinds by pulling them all the way up and installing this bamboo roman shade over the window trim. You didn't even know they were there did you? The family uses the roman shades when they want privacy and the broken white blinds are completely hidden.
10. Do use contact paper.
You can contact paper on walls, your kitchen cabinets, your fridge, your door and so many other places. You can even use frosted glass contact paper on a window to give you privacy.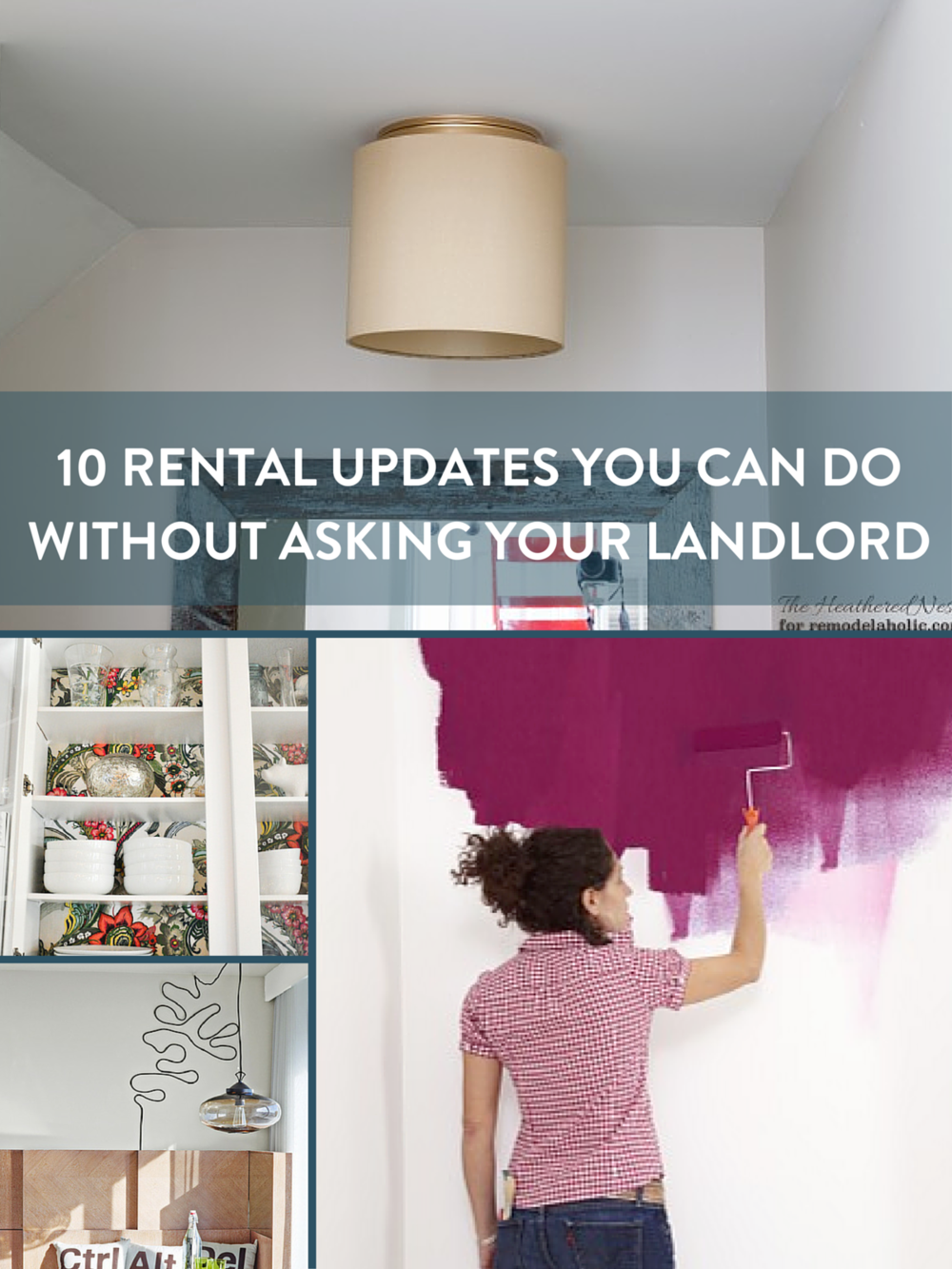 Your rental can feel like your home with these simple updates. On another note, while I would be fine with all of these updates, if you are not sure…go ahead and ask your landlord anyway. A trusting landlord will let you do more but you do have to gain the trust at first. Love this post and want more? You're in luck, because we've got lots of great posts planned specifically for all you renters so stay tuned.