No matter how many trends come and go, there are a few classic home decor elements that never go out of style. Think of a simple round mirror, the Eames lounge chair, a quality Persian rug – designers come back to these pieces again and again.
Another essential decor item that every interior designer seems to have in their back pocket? White curtains. Versatile and classic, well-tailored white curtains can dress up literally any room; no matter the style. And here's the secret – we've noticed a lot of designers are getting their curtains at IKEA!           
The RITVA curtains are popping up all over the place. They're 100% cotton, thick enough for privacy but thin enough to let in beautiful filtered light, and you can get them as long as 118″ in length – unheard of for affordable curtains. Speaking of affordable, the best part is their price tag. As set of RITVA curtains will only cost you $30 to $40 depending on the length you need.
Ready to get your own? Here's how some of our favorite designers and home decor bloggers have styled these classic curtains.
In this eclectic modern living room the curtains are hung with a pleat, high and wide, and are tailored to "kiss" the floor. The bamboo shades add another layer to give the windows a custom look.
The RITVA curtains look great in a more formal setting too. Even though they're extremely affordable, they look high end.
For a more casual farmhouse look, let the curtains puddle at the floor a bit. The RITVA curtains come with their own hemming tape, allowing you to choose your own custom length – even if you can't sew.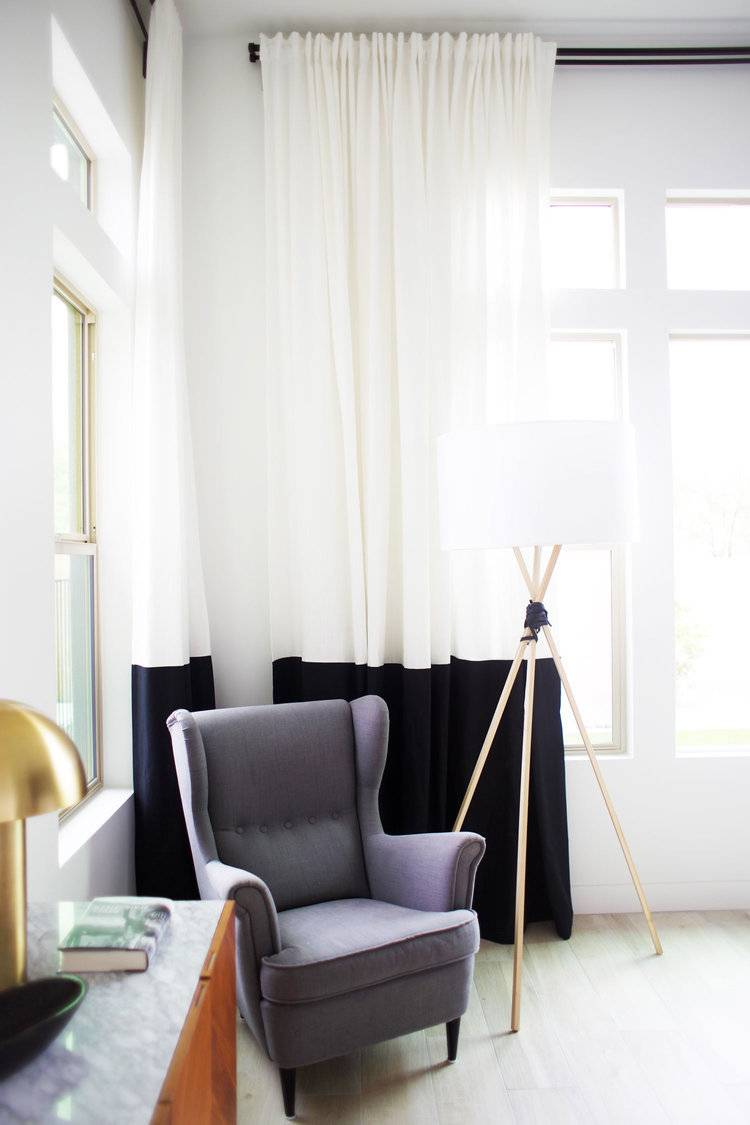 Because of their low price tag, the RITVA curtains are great for modifying with DIY projects. Adding black fabric to the bottom give them a whole new modern and custom look.
If you're really bold, you can dye these white curtains any color you'd like. The result is designer-looking window treatments for a fraction of the cost.
In this traditional living room the panels are hung with clip-on curtain rings. They look casual yet elegant.
For a more playful look, consider lining the curtains with pom-pom ribbon. A fun idea for a playroom or child's room.
---