Back in 1977 a Sylvania 25″ color console TV would set you back a whopping $530. Adjust for inflation, that would cost us $1,840 today*. Ouch. Next time you see an old console TV, keep that in mind and then think of these makeovers.
 to nice:
Erin
turned her old TV into a new doggie bed.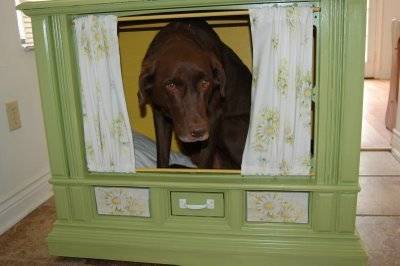 Okay, all of these were cool, but my favorite is this conversion, which also went from TV to bar. Check it out:
The maker tiled the top and inserted a wine bucket for chilling.
LED rope lights were added into the interior, which, when the red velvet curtains are closed (via a proper mechanical 'pull string'), give the bar a very theatrical look. No 'before' on this one, I'm afraid, but to read more about the project, visit
Alpine Butterfly
.